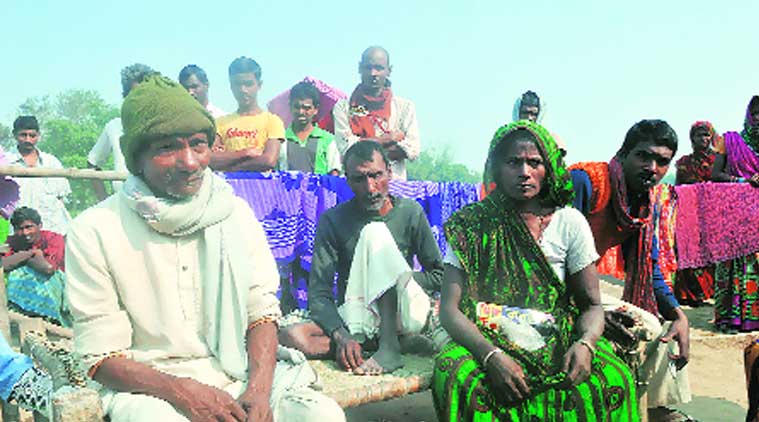 Radhe, Basudev and Pawo Devi at Barohiya
Fearing social 'boycott', five members of a family belonging to an extremely backward caste (EBC), who embraced Christianity four days ago, returned to Hindu fold Friday at a village in Bihar's Bhagalpur district.
The family said they had a sense of "guilt" and were under pressure from those who were questioning their decision, including politicians. All five feared "backlash and boycott" as Barohiya is an all-Hindu village.
The locals said that were committed to "Hindu unity". While former Pirpaiti CPM MLA Ambika Prasad was the first to inform the media about conversion, local BJP leaders, villagers, and several government officials met the five persons over the last three days.
Radhe Mandal (72), Basudev Mandal (62) and Pawo Devi (55), who offered prayers at the village temple as a matter of "re-conversion" in presence of around 100 villagers, told The Indian Express that they had been in contact with Naugachhhia-based Christian missionary through one Vakil Mandal and Mohammed Mokin since this August to "get rid of their ailments". They said they "got some relief after drinking holy water and applying mustard oil" offered by the missionaries.
Lalita Devi and Sarita Devi, the other two family members, refused to talk.
Basudev, who suffers from tuberculosis said: "Vakil, my relative at Masudanpur village, advised me to take holy water and oil from missionary to get immediate relief.".
The family does not have agricultural land and they work as farm labourers.
Basudev's son said six missionaries held a prayer meeting at his house on December 15. "We had been asked to arrange a loudspeaker for prayer. We sang prayers of Jesus Christ. Four other people also joined and converted to Christianity." Ajay, his wife, mother and younger brother, however, did not convert.
Radhe Mandal, who faces allegation of getting a mobile phone and some cash, said: "I had converted because I had relief from my waist pain after drinking holy water."
Pawo Devi, who also complained of heart problems and waist pain, said she too had relief from holy water treatment.
Jodhan Mandal, a villager, said it was the first case of conversion in the village even though they had heard about 15 Hindu families from neighbouring Adilpur village converting some months ago.
Bhagalpur BJP chief Nabhay Kumar Choudhary, who led a fact-finding team to the village, said: "All five, who were suffering from some ailments,  were lured to become Christians. We welcome their decision to become Hindus again."