Hindu Mahasabha of America aka Hindu Congress of America (HMSA) observed Hindu memorial day in Houston to commemorate Hindus who have been victims of Hindu human rights violation globally. The program began with a silent prayer in memory of Hindus who laid down their life in defending Hinduism. Many eminent speakers from various faculties spoke during this event.
Dr. Babu Suseelan
, one of the director of New York based Indian Intellec-tual Forum (IIF) and an renounced scholar on Hindu human rights spoke on significance and historicity of Hinduism. He mentions that currently Hindus, Hinduism and motherland is in crisis. The biggest problem is Hindus are not participating in democratic process via voting whereas Muslims in India are voting in large numbers—as a result more and more elected representatives are more inclined to serve Muslim interests and ignoring Hindus requirement towards developing social—political and religious policies at state and na-tional assembly. He says that if Hindus vote in large number there wouldn't be a problem of minority vote bank or appeasement. He request all Hindus to vote for Narendra Modi in upcoming Lok Sabha elections not for personal reasons but Hindutva is an ideology for peace and prosperity in India and worldwide. Hindutva is cultural nationalism (like considering cow as sacred, considering Ganges as sacred river and love for motherland and ancestors etc). He mentions the urgent need to understand anti-Hindu forces schemes and projects to gain control over the way our motherland is to run and our way of life.
Mr. Ravindra Shukla,
a prominent social activist and author of book "A Maverick Heart: Between Love and Life"
"Terrorism around the world" . He presented some real scenarios where systematically one by one key nationalist institutions in India are dilut-ed to embolden anti –Hindu agenda. Like the issue of increase in Beef exports from India, communal violence in Mumbai, UP, Kishtwar riots, Assam Riots, Bikers gang in Delhi etc. Similarly how Armed forces and intelligence agen-cies (CBI, IB, RAW) in India are being targeted and demoralized, appease-ment of ISI and Pakistan based terror outfits by some politicians for cheap vote bank politics. How Varun Gandhi was legally victimized for his speech (which focused towards protecting Hindus) by Owaisi (an MLA from AP) was given a free ride for his hate speech against Hindus. Such anti-Hindu and anti-India agenda aims towards demoralizing nationalist security apparatus, make Hindus feel cheap and worthless by raping their women under Love Jihad, rob the economy and committing crime against Hindu women who are the our mothers and sisters. He suggested three way approach. First: Hindus should change their attitude ( renunciation of duty for Dharma and nation), vote and support honest nationalist leaders. Connect all Hindu temples and Hindu or-ganizations for common cause.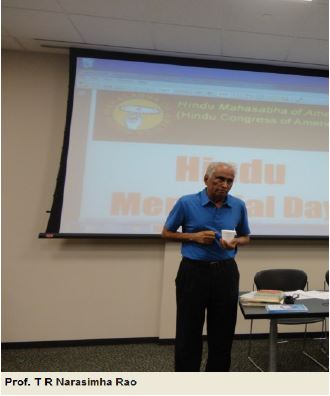 Prof. T R Narasimha Rao,
an eminent Hindu scholar and past president of Hindu University of America, Florida spoke on how brainwashing of Hindu youth is rampart with a pro Islamic mindset. Why with a 80% majority Hindus are being politically suppressed. How conversions are used to keep religions alive. He said Hindus should be optimistic and confident as even after 1000 years of sup-pression by Islamic and British Raj—Hindusim is still flourishing. He mentioned that Nehru retained the social and cultural policies of Britishers in Bharat and congress party is continuing that colonial agenda. Lastly he mentioned that Hindus have to do their dharma and at this stage Hindus should vote for Narendra Modi in complete capacity and support him from overseas. He reiterated the message of Swami Vivekananda who taught that Hindu Dharma is above and everything.
Mr. Pramod Buravalli,
coordinator OFBJP Texas educated audience on Mission –2014, which aim to bring Narendra Modi led NDA to power at center. He emphasized the point where political power is essential to safeguard national and cultural interest. He requested Hindus to join this mission and do their Dharma.
In a ceremony to memo rate the decades of selfless service of Shri. Dilip Me-hta towards global Hindu unity and empowerment . He was awarded: Lifetime Achievement Award by Dr. Babu Suseelan.
Mr. Rahul Chandra
, a distinguished Hindu scholar on socio—religious & political activism and Governing coun-cil member of VHPA educated audience on strategic and tactical approach to prevent further Hindu human rights violations and subsequent holocaust. He mentions that its anti Hindu ideology that leads to formation of institutions and institutions implements projects.
Dilip Mehta,
a renowned worldwide Hindu leader and Presi-dent of Hindu Mahasabha of America (HMSA) thanked all speakers and guests. He educated the audience on HMSA mis-sion, goal and objectives — to fight for Hindu cause socially and politically platforms with worldwide scope. He referred to Bhagavad Gita verse which says: Ahimsa paramo dharmaha, Dharma himsa tathaiva ('Non-Violence is the greatest Dharma, so too is all righteous violence to protect Dharma') in short it's right to fight back to protect or motherland, dharma and cul-ture if we have to save our self.
Hindu Memorial Day (HMD) is observed to commemorate Hindus who were victims of human rights violation dur-ing the 1947 partition of India and Pakistan. Millions of Hindus suffered social, economic and political persecution as a result of division of area. HMD is also observed to commemorate Hindus who have been victim of human rights violations across the world since time memorial.