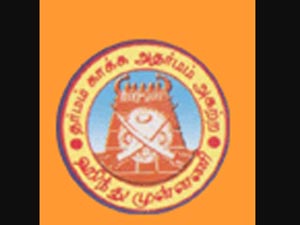 DHARMAPURI: Members of the Hindu Munnani in Dharmapuri town on Friday expressed their outrage over Valentine's Day celebrations by performing the wedding of two dogs.
About 50 persons from Hindu Munnani, led by its district convener P Rajaji, staged demonstrations at the Periyar statue, situated on the Dharmapuri-Tirupathur state highway. They raised slogans condemning the Valentine's Day celebrations.
They conducted the wedding of two Pomeranian dogs in the presence of a priest around 11am. They chanted mantras to bless the garlanded 'bride' and 'groom.' The hour-long ritual resembled a local Hindu marriage ceremony in all respects.
The 'newlyweds,' clad in colorful attire and adorned with flowers, were later taken out on a procession. After that, a sumptuous lunch was served along with chicken and mutton to the 'newlyweds.' The entire area wore festive look.
"We are not against true and genuine love. At the same time, we will not allow people, especially youths who will fall in obscene activities in public in the name of Valentine's celebrations," Rajaji said.
"The youth should consider the sentiments of their parents and the public before indulging in such cheap activities in public in the name of love," Rajaji said.