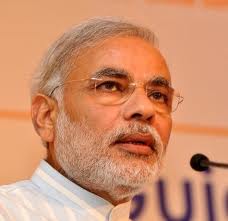 The Republican Party of India, which has never subscribed to Hindutva, is showcasing Narendra Modi as a mascot to consolidate Dalit votes in favour of the BJP-Shiv Sena alliance in Maharashtra.
The Swabhimani Shetkari Sanghatana, a powerful farmers' organisation, is citing the "Gujarat model" to highlight the agrarian crisis inMaharashtra.
Raj Thackeray's Maharashtra Navnirman Sena opposes the Shiv Sena but supports the BJP's prime ministerial candidate Modi.
Radical Maratha leader Vinayak Mete has quit the NCP to join the BJP-led alliance.
With Bal Thackeray not around, the Shiv Sena's own disgruntled MPs such as Anandrao Adsul in Amravati have found refuge in posters which have Modi on their side.
Whether it is putting together poll campaigns or election strategies, the Modi factor has become integral to every party in Maharashtra, a state that contributes 48 seats to Parliament, the most afterUttar Pradesh.
BJP poll managers are working overtime to meet the demands of party candidates who want Modi to address a rally in their constituency. It is not just curiosity that is attracting phenomenal crowds to his rallies, they say. The "un-preached", they claim, are getting converted.
Instead of two rallies a day, BJP poll managers have now accommodated requests to have Modi speak at four rallies a day. And the BJP-Shiv Sena alliance is targeting 31-33 seats in the state to match their previous best of 33 in 1996.