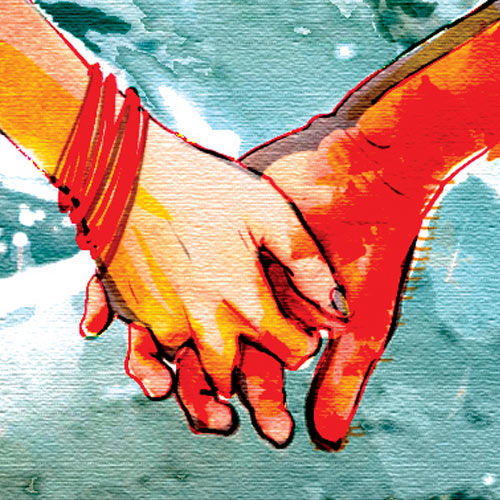 Girl converts to Islam to marry boyfriend, hopes her parents will help quash FIR against him.
This Bollywood potboiler from Kandivli has drama, action, romance, and an almost "happily ever after" ending.
More than two months ago, a diamond merchant from Kandivli lodged a complaint at Juhu police station that his 21-year-old neighbour kidnapped his 17-year-old daughter.
The girl Priyam Shah, a commerce student of Juhu-based Mithibai college, and the boy, Firoz Moideen, a student of neighbouring Ritambhara College, went missing in October after they left home for college. They lived in opposite buildings on Link Road in Kandivli.
The two eloped and got married under Islamic tradition once the girl turned 18. Since she was minor at the time of the incident, the police lodged a case of kidnapping against the youth.
The Juhu police ran helter-skelter for two months to find them out, but to no avail. In December, more than a month after the complaint was filed, the police arrested the boy's father, Moideen Shaikh, a real estate developer, and kept him in custody for about 10 days.
At this point, the girl, now known as Farha Firoz, appeared in the magistrate's court in Bandra, saying she turned 18 a few days ago and had married Firoz. The two then had a court marriage.
"We found that the two had an affair for the past two years. Since the girl's family was against it, they eloped," Ashok More, assistant inspector at Juhu police station, said. "We registered a case as the girl was minor. We also knew that the boy's family knew their whereabouts but were not disclosing. Therefore, we had to arrest the boy's father."
The police could not trace them as their phones were switched off and they kept changing locations, the officer said. "The girl came back a few days ago and told us that she willingly married the youth after turning 18 in November and converting to Islam. She said she had no complaints against the boy's family," he said. "She is now living with her in-laws. She is not ready to reveal where they had been for the past two months. But the case is not closed as the incident happened when she was a minor."
The girl and her in-laws have approached the court to quash the FIR and close the case. Moideen told dna: "Both knew each other for a long time; she took the extreme step as her parents, unhappy with the inter-caste affair, tortured her regularly. I was unnecessarily taken into custody… I did not know where both of them were hiding. But when the two came back after marriage, we accepted them and she is now happy."
The girl told dna that she was waiting to turn 18 before surrendering herself. "My parents were against this relationship… I decided to elope as I wanted to get married," Farha said. "We were travelling for two months… I want this case to be closed. I hope my parents will help in quashing the FIR."