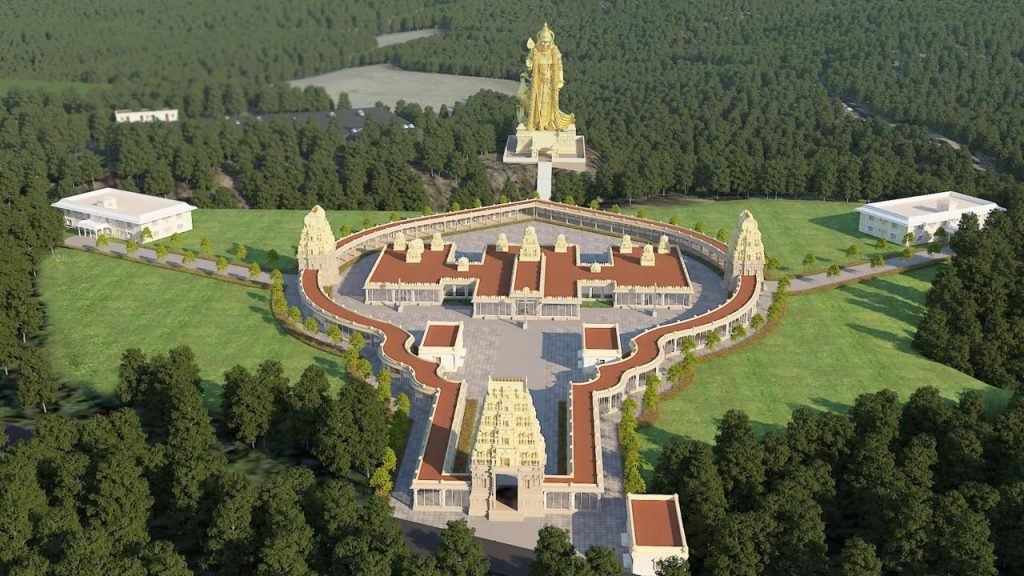 Hindus have welcomed the trend of installing towering statues of Hindu deities in Hindu temples in North America.
With ten Delaware Department of Transportation trucks in the lead, six New Castle County patrol cars, three majestic mounted horse patrol unit; 25 feet tall Lord Hanuman statue was recently greeted at the Delaware state line; according to Hindu Temple of Delaware in Hockessin website, where it is planned to be installed in the near future.
The tallest Hanuman in USA, born in Ursugutta (Telangana, India), weighing 70,000 pounds, arrived safely on January 18, with a decorated chariot and a 100-car procession; website added.
Carolina Murugan Temple in Moncure (North Carolina) reportedly plans to install the 155-feet statue Of Lord Murugan, which it claims to be the tallest statue of the deity in the world.
Vishnu Mandir in Richmond Hill (Ontario, Canada) reportedly has 50-feet Mangal Murti Hanuman statue, while Lord Hanuman statue at Hanuman Mandir of Greater Chicago in Glenview (Illinois) is 21-feet high. There is a 16-feet statue of goddess Saraswati outside Embassy of the Republic of Indonesia in Washington DC, while a tall Lord Hanuman statue stands at the entrance of Hari Om Mandir in Medinah (Illinois).
Various top US museums like Metropolitan Museum of Art (New York), The Art Institute of Chicago, The Cleveland Museum of Art, Minneapolis Institute of Art, Los Angeles County Museum of Art, Detroit Museum of Arts, The Nelson-Atkins Museum of Art (Kansas City), Brooklyn Museum (New York), etc., carry statues of some of the Hindu deities like Shiva, Vishnu, Durga, Ganesha, Lakshmi, Hanuman, Krishna, Saraswati, etc.; and Shiva-linga; in their collections.
Distinguished Hindu statesman Rajan Zed, in a statement in Nevada today, said that the taller statues of Hindu deities did create greater visibility and awareness among communities across the country about Hinduism and might thus inspire them to learn more about Hinduism and its tenets.
Learning about the faith of neighbors creates better understanding and harmony among the society as a whole and develops more opportunities of dialogue, which in turn leads to enhanced mutual trust and overcoming the prejudices; Rajan Zed, who is President of Universal Society of Hinduism, adds.
Hinduism, oldest and third largest religion of the world, has about 1.1 billion adherents and moksh (liberation) is its ultimate goal. There are about three million Hindus in USA.
Source: World Hindu Network (WHN)