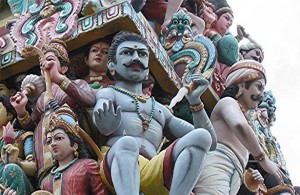 Hindu community worldwide has expressed urgent need of a Hindu temple in Oxford in England.
Hindu statesman Rajan Zed, in a statement in Nevada (USA) today, stressed that in addition to about 10,000 Hindus of Oxfordshire county, a Hindu temple is urgently needed for the spiritual needs of Hindu students at the world renowned University of Oxford so that they had a spiritually meaningful life in addition to material success after they graduated from here.
Zed, urged the world Hindu community to come forward to help the locals who were trying to raise a temple. Oxford City Council and Oxfordshire County Council should also contribute towards it so that their Hindu citizens also had their own worship place like other major religions.
A voluntary democratic community organization registered as charity, Oxford Hindu Temple & Community Centre Project, reportedly aims to raise £500,000 for Hindu Temple/Community Centre to meet the spiritual, cultural and social needs of the community and it has already collected about £110,000.  The Community Centre would also serve as a meeting place for seniors, activities for youth and interfaith events.
Project has been reportedly organizing prayer sessions, various festivals, Summer Mela, Shri Ram Katha, Hinduism lectures, yoga workshop, Bhagvad Katha, etc. Its Executive Committee, besides others, includes Chair Gyan Gopal, Deputy Chair Chinta Kallie, Secretary Ritesh Kapadia, Treasurers Dharam Raj Gupta and Krishan Dhiman.
Zed commended efforts of the leaders and the community involved in realizing Oxford Hindu Temple & Community Centre.  Zed pointed out that it was important to pass on Hindu spirituality, concepts and traditions to coming generations amidst so many distractions in the consumerist society and hoped that this upcoming Temple complex would help in this direction. Zed stressed that instead of running after materialism; we should focus on inner search and realization of Self and work towards achieving moksh (liberation), which was the goal of Hinduism.
Oxford, "city of dreaming spires" settled in Saxon times which appears in "Harry Potter", is home to prestigious University of Oxford, the oldest university in the English-speaking world. Theoretical physicist Stephen Hawking was born here while authors Lewis Carroll, C. S. Lewis, J. R. R. Tolkien, Oscar Wilde, etc., are associated with it. Mohammed Abbasi is Lord Mayor of Oxford City Council; while Anne Purse and Ian Hudspeth are Chairman and Leader respectively of Oxfordshire County Council.
Hinduism, oldest and third largest religion of the world, has about one billion adherents.