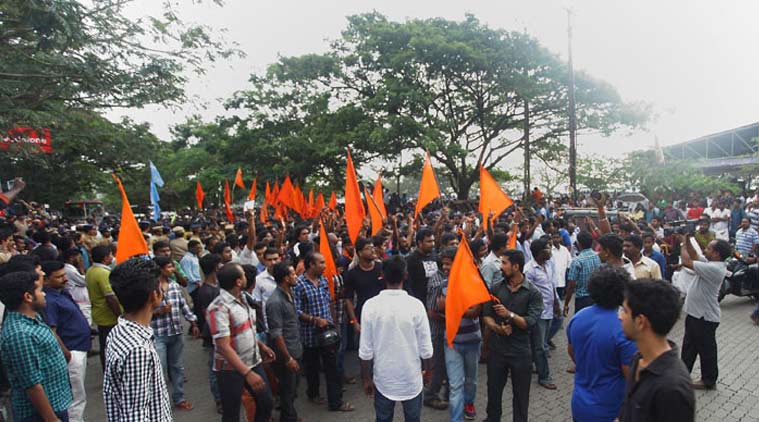 Hindu Jagran Manch (HJM), an RSS unitt, organised a mahapanchayat in Bijnore. (Representational Image)
Written by 

Manish Sahu

 | Posted: January 24, 2015 1:33 am
AN alleged abduction of a Hindu minor girl by a Muslim youth in Bijnore district in December, took a political colour Friday when Hindu Jagran Manch (HJM), an RSS unitt, organised a mahapanchayat in Bijnore and gave police time till January 27 to get the girl back and arrest the accused.
The mahapanchayat, reportedly attended by more than 1000 people, also demanded the removal of station officer (SO) of the concerned Sherkot police station, Pradeep Kumar Yadav, for allegedly misbehaving with the girl's parents.
HJM's Bijnore's district president, Jitendra Vaish, said, they decided to hold the mahapanchayat after coming to know that the policemen had forced the girl's family to arrange for a vehicle for search operation. It was also alleged that the policemen did not respond quickly even after being informed about the place where the accused was hiding, following which he escaped.
Jitendra said they they have given the police time till January 27 on the request of senior officials who were present at the mahapanchayat and accepted the memorandum of their demands for recovery of the girl and dismissal of the SO.
Nearly 1,000 people from Bhanauti, Harevali, Kandhala, Shahkot, Bhootpuri, Suhavala, Suhagpur and other adjacent villages participated in the mahapanchayat, which was organised on the premises of Garhi Mandir located at Harevali crossing in district. Several women were also present.
Former Bijnore district BJP president Kameshwar Rajput said they had motivated people to attend the mahapanchayat because girl belongs to Hindu community.
The girl, belonging to Prajapati community, went missing on December 26 from near her house at Kathra locality. Her father Kalwa Singh, a labourer, got an FIR lodged against Naeem Ahmed the next day on the basis of a local youth's information who had seen Naeem taking away his minor daughter.
General secretary of the state Prajpati Mahasabha, Pankaj Daksh said they held a protest at the office of District Magistrate and Superintendent of Police demanding dismissal of SO.
Contacted, investigating officer of the case, sub-inspector Sharad Pawar said, they are trying to recover the girl. During investigations, it came to fore that Naeem's mother Zareena had helped the accused in the crime. She was arrested and sent to jail.
IO further added that call detail records have established that Naeem had abducted the girl.