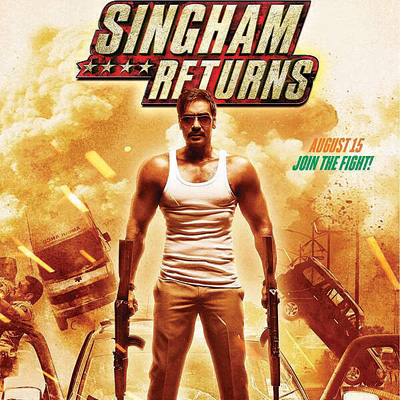 Hindu Janjaguriti Samiti (HJS) has withdrawn its nationwide agitation against the soon to be released movie 'Singham Returns' after producers and director of the movie, Rohit Shetty, assured the group that scenes from the movie that the Samiti feels would hurt the sentiments of the Hindu community will be removed.
However, the Samiti has warned that any objectionable scenes found post-release will see intensified agitations. The film is scheduled for August 15 release.
The Samiti had registered its objections with the Censor Board on finding objectionable scenes and dialogues in the trailer. Accordingly, a meeting between Shetty and co-producer Ajay Devgan and Samiti members including its spokesperson, Ramesh Shinde was held. The Samiti announced the new developments at a press conference on Tuesday.
The Samiti has also accused the Censor Board of shirking its responsibilities and "turning a blind eye", citing the instances of the public being compelled to raise objections in court against the posters of Amir Khan's films, 'PK' and 'Dirty Politics' that insult the national flag and demanded a re-organisation of the Board to prevent obscene scenes and incidents hurting religious feelings. It has also suggested appointing of a representative of religious organisations on the Board.