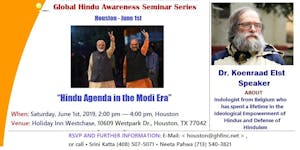 Global Hindu Awareness Seminar Series
Houston 2019
When: Saturday, June 1st, 2019, 2:00 pm — 4:00 pm, Houston
Venue:Holiday Inn Westchase, 10609 Westpark Dr., Houston, TX 77042
Hindu Agenda in the Modi Era: Prospects, Roadblocks and Pathways
A historic mandate delivered by the voters of India on May 23rd, 2019 was unprecedented in electoral history of the country. The results have brought joy to every Hindu activist and politically aware Hindus in general. In intellectual circles, Modi's Vikas Mantra is presented in opposition, and as an alternative, to the Hindu agenda. Left-liberal media often cites Hindutva Vs. Vikas dichotomy. Dr. Koenraad Elst will speak on the integral compatibility of Vikas and Hindutva. The author will present an over-arching case for the comprehensive pursuit of the Hindu agenda in the Modi Era, where Vikas will play an integral role. The author will review the roadblocks that may come in pursuit of the Hindu agenda, and will suggest various pathways on the strategic direction Hindu activism should take to make best use of the historic mandate delivered on May 23rd.
RSVP AND FURTHER INFORMATION:
E-Mail: < houston@ghfinc.net > ,
or call
Srini Katta (408) 507-5071
Neeta Pahwa (713) 540-3821
Koenraad Elst, Ph.D. is an Indologist from Belgium who has spent a lifetime studying India, her culture and current affairs. Dr. Elst is most famous for his 'Out of India' theory, which advocates the case of India being the source of much knowledge in the ancient world, and proposes that Indic ideas found their way into China, Iran and Europe. Dr. Elst is the foremost scholar of Hindu Renaissance in the world today, who has spent a lifetime in intellectual defense of Hinduism and ideological empowerment of Hindu society. Major works of Dr. Elst are 'Saffron Swastika', 'Decolonising the Hindu Mind', 'Who is a Hindu?', 'Dr. Ambedkar—A True Aryan', 'Indigenous India—From Agastya to Ambedkar' and 'Update on Aryan Debate'.
Have questions about Houston 2019 – "Hindu Agenda in the Modi Era" – Dr. Koenraad Elst?Contact Global Hindu Foundation Inc.