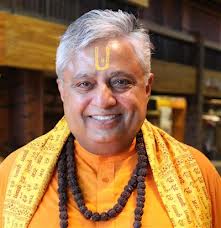 For the first time since the early city commissioners became a mayor and city council in 1890, the Laurel City Council began its meeting with a religious invocation that was not Christian.
Rajan Zed, president of the Universal Society of Hinduism based in Nevada, opened Monday's council meeting with an invocation from Sanskrit scripture, which is considered a sacred language in Hinduism.
Zed read from multiple scriptures including the Bhagavad-Gita, Rig-Veda and others, in both English and Hindi. He said the passages read urged council members to "keep the welfare of others always in mind."
Zed, who has traveled as far as California to offer public prayers and has performed invocations in both branches of Congress, said the invocation was historic for the city.
"Today, my message is basically to think about the welfare of the world and act selflessly," he said. "Action is better than inaction, so that is the basic message."
Zed added: "Getting exposure to different religions makes the public more enlightened."
City Council President Fred Smalls said the council was very pleased to accept Zed's invitation to invoke the council meeting.
"It helps to begin to demonstrate our community's diversity," Smalls said.
Smalls said he hopes it will lead to other invocations from other religions.
"In a community as diverse as Laurel has become, it is important to demonstrate, from city hall, our observance of this diversity," he said.
Smalls said Laurel is the first municipality Zed has visited in his travels, and that the city is very honored.