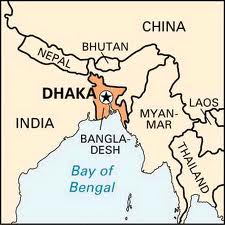 Dhaka : Fanatic jihadi workers from Awami League, the ruling party of Bangladesh attacked 13 houses of Hindus between 5.45 p.m. and 7.00 p.m. with arms in which 15 persons have been seriously injured. They are admitted to Government Hospital at Chittagong. The above information was given by advocate Rabindra Ghosh, the President of Bangladesh Minority Watch. Police are not paying attention because the attackers are from ruling party.
1. Advocate Shri. Rabindra Ghosh contacted Bolkhali police station when police officer first refused to acknowledge of any such incident. Then he said that it was trivial matter.
2. On contacting Superintendent of Police (SP) at Chittagong, Shri. Ghosh got information about the saidincident; but the SP refused to say anything further in the matter and cut off his phone. Shri. Rana Dasgupta, General Secretary of Hindu, Buddhists and Christian Parishad in Bangladesh was contacted by Shri. Ghosh and was informed about the attack. He has promised Shri. Ghosh to look into the matter.