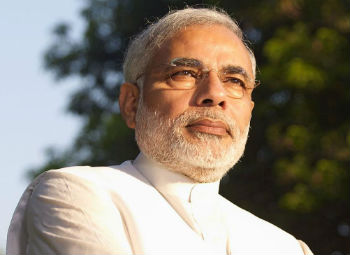 To
Hon. Prime Minister Narendra Modi,
Regards !
First of all, Hindu Vidhidnya Parishad congratulates you for your great success in 16th Parliamentary elections ! All Hindus in this country are grateful to you for cracking up fake secularists and their superstition called secularism.
Congress has always played dirty politics by branding BJP as communal. In this election, however, all Hindu voters from India renounced Congress and Congress politics. All of this could happen only due to the wave of Modi which is as clear as sunlight. There is no scope for doubt or arguments. You emphasized only on progress without touching upon any issue related to religion in whole of your campaigning. You have broken the 65 years old tradition of bowing before minorities for votes and started new practice; therefore, Hindu voters of this country trusted you. We are sure that you would not break this trust; but feel that in India where Hindus are in majority, you can strengthen your position on the basis of your governance giving due respect to sentiments of Hindus. It is also felt that few points need to be tackled with priority in the interest of this country and strengthening base of Hindutva in this country. There is no likelihood of disturbing law and order due to this; in fact, it will create conducive atmosphere for maintaining law and order in the country if decisions are taken on these issues. People of this country will be rest assured that the wrong culture of pampering minorities in the name of secularism would be eradicated and there is transparency in governance.
The points are as given below.
1. Quash the recommendations of Sacchar Commission !
Three petitions filed against the Central Government in connection with Sacchar Commission are still pending. One of the petitions is filed by advocates of Hindu Vidhidnya Parishad. The second petition has been filed by Narendra Modi himself through Gujarat Government. In this case, the Central Government was fined Rs. 10,000/- for not replying on the petition. Congress has just whiled away time and wasted precious time of the Court and that of the nation. Now, however, there is Modi's Government in Centre; therefore, it is possible for the Government to file its reply. In the original report of Sacchar Commission, the only word used was 'Muslim and non-Muslim'. Later, it was given an extensive form by including everyone like Parsis, Jains and Sikhs against Hindus and special facilities have been recommended to all except Hindus. The original report is only for Muslims but while showering facilities, all are included except Hindus for showing expansiveness. If Modi's Central Government files a true affidavit in the Supreme Court about not having any association with it, the legal experts have no iota of doubt that Supreme Court would quash Sacchar report. The Congress Government knew this; therefore, it only whiled away time for so many years. The affidavit should therefore, be filed in Supreme Court and the subject may be ended as no dispute seems likely to be created by doing such thing.
2. Make attempt for release of Sadhvi Pradnya Singh and Colonel Purohit !
In Sadhvi Pradnya Singh's case, supplementary charge sheet of NIA is ready; but it is not being filed because Sadhvi and Purohit would get bail. Your Government should therefore, openly give orders to NIA officers for immediate submission of charge sheet in Court. This will do away with injustice done to a cancer-affected Hindu Sanyasin. It will be doing great service to Hindutva.
3. Release 'Pandava Wada' from the clutches of Muslims  !
The area, in which Pandavas had stayed in Jalgaon while in exile, is known as 'Pandava Wada'. The Government should take action on pending issues. The area of mosque is not even 1/50 in Pandava Wada and all remaining area belongs to Archaeology Department. A petition has been filed with Wakf Board. If officers of Archaeology Department are instructed to file case directly with High Court, while pending with Wakf Board, still, it will be possible to develop Pandava Wada, a place which is heritage of ancient Bharat.
4. Take immediate action on administrative officers who are implementing anti-national policies !
Respected Modiji, you had stated in your election campaign that you would drive away Bangla Deshis. Congress has so far strived to take the economy of this country on the path of destruction. Congress Government had even imposed ban on all such web sites that made reference to throwing out Bangla Deshi infiltartors who are a burden on the economy of this country and who have caused huge loss by bringing fake currency notes in India. The concerned officers in administration had talked very rudely on this subject and even abused Modi. These officers did not stop at that but they also refused to impose ban on web sites of Al- Kayda, Taliban and SIMI. They shamelessly claimed that 'Our policies are such'. Honorable Modiji, we request you to verify all correspondence, conduct inquiry into the concerned officers in Information and Broadcasting Ministry; so also Home Ministry. Stringent action should be taken against them and they should be dismissed.
5. Search for Dilip Patidar and take action against the responsible persons !
Anti-Terrorist Squad (ATS) of Maharashtra took custody of a youth named Dilip Patidar from Indore for inquiry into Malegaon bomb blast of 2008. Since then, he has not reached home. Patidar's family feels that Maharashtra ATS must have killed Dilip; therefore, they had filed a case in MP High Court. The Court had doubts about this case; so it was handed over to Central Bureau of Investigation (CBI) for further investigations. CBI has recorded statements of Maharashtra ATS staff members and permission from Maharashtra Government is required for filing case against State ATS. CBI had given a letter to Maharashtra Government two years back in this regard; but the State Government is not replying to this letter. Please give prompt orders to CBI in this case and by filing a case in Mumbai High Court, force the Government or Governor to dispose of this case at the earliest so that officers of ATS responsible for the same can be booked for the crime.
6. Give orders for prompt hearing of Azad Maidan riots case !
Give orders to Maharashtra Government for starting hearing in riots case which took place at Azad Maidan on 11th August 2012 and keep on asking for report in this case.
7.  Take action against those who are telecasting fanatic channels like Peace TV despite ban !
Channels like 'Peace TV' despite banned in India, are shown in this country. Action should be taken against those officers of Information and Broadcasting Ministry who are taking no action in this respect by their dismissal.
8. Take action against anti-Hindu police officer, Krushnaprakash !
Few anti-national Muslims had climbed on the vehicle of the then Superintendent of Police, Krushnaprakash during riots at Miraj and hoisted Pakistan's national flag. Krushnaprakash remained quiet when this was going on and even later, he took no action against such anti-nationals. Communal police officers like him even suppressed case of riots at Azad Maidan. A close friend of such Krushnaprakash, viz. Satyapal Singh has become BJP's MP today. Matter of Krushnaprakash, who compromised with national security, should be attended to and he should be suspended at the earliest by asking for a report on the case.
9. Anti-nationals breaking into Government should be taken care of !
There are such small issues in which Muslims need not raise any objection and in which injustice done to pro-Hindu activists will be dispelled. If the Government does these things, there is no possibility of any dispute; moreover, law and order necessary for progress of the country will be maintained by taking action in the above cases which will be in the interest of this country; it will be service to the nation. Presently, many things are suggested e.g. fencing the whole border with Bangla Desh. Such projects will need lot of money and in some drives, there could be Hindu- Muslim controversy; but it is in our hand to eliminate anti-nationals who have managed to enter into Government system and rats who have made soil of our country, quite brittle. Pro-Hindu organizations also need to pursue all such issues. People like Tista Setalvad, Azgar Ali Engineer have accepted funds from foreign countries for their organizations by committing breach of Foreign Contribution Regulation Act (FCRA). These organizations run periodicals; therefore, they cannot accept aid from outside countries. Still they have accepted financial aid and they can be punished with 5 years of imprisonment.
We have written many letters to the Government so also other organizations and advocates have written letters against such things; but the Congress Government has not answered any of our letters. You can instruct the Government to take further action on these letters. You can thus, teach a lesson to criminals and create disciplined governance in this country.
10. Beware of those giving wrong advice in this period of victory !
In your efforts to take this country towards righteous governance, there appears to be one danger. In 1977, Shah Commission was set up after ousting Indira Gandhi which resulted into her getting people's sympathy. There will be many who can give you wrong advice in your victorious path. They may give you advice of arresting Robert Vadera. When Hindu Rashtra is established, not only Robert Vadera but nearly 2-3 lakhs of corrupt and criminal politicians will have to spend rest of their life in jail and we have no doubt about the same; but instead of arresting Robert Vadera now, it is necessary to bring improvement in bureaucracy. Pro-Hindu organizations can also take up the task of cleansing whole system as service to the nation. It is not the politics of revenge. Bureaucracy is corrupt. You had said that Congress-free India was Gandhiji's dream and today, you have fulfilled Gandhi's dream. Your wave has washed out Congress. Similarly, now, you will have to cleanse the bureaucracy.
Finally, we want to suggest that in your mission of building up this country, issues put forward by us may be disposed of with priority in the interest of this country; and it will not create any controversies. We, as responsible pro-Hindu citizens and responsible pro-Hindu organization, promise you to extend all possible cooperation in your task of establishing good governance.
Yours
Hindu Vidhidnya Parishad