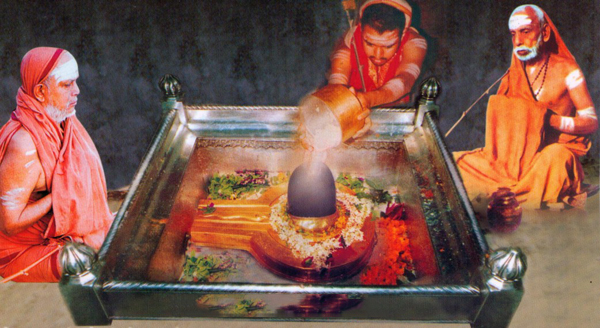 CHICAGO
The Kanchi Kamakoti Seva Foundation (KKSF) Midwest Chapter, a not-for-profit organization, is planning to conduct Shri MahaRudra Yagnam for Loka Kshema and Vishwa Shanthi (universal prosperity, peace and harmony) from Friday, June 9 to Sunday, June 11, 2017 at the Shri Shirdi Sai Baba Mandir Chicago, Aurora, IL.
The Shri Kanchi Kamakoti Peetam was established by Shri Adi Shankara, viewed widely as Lord Shiva incarnate. He disseminated the Advaita philosophy and was solely responsible for re-establishing the Hindu Sanathana Dharma as it was threatened by decadence, according to a press release.
The essence of Hindu Sanathana Dharma, the Advaita philosophy, embodies the "Godliness in everything around us and unity in diversity" principle that forms the foundation for a modern, pluralistic and the most tolerant society that is Bharat.
The Peetam has been adorned by an unbroken and continuous string of 70 distinguished Acharyas (Guru parampara) since its founding over 2500 years by Shri Adi Shankara.
One of the most notable Gurus has been the 68th Acharya, His Holiness Shri Shri Chandrashekarendra Saraswathi MahaSwamiji. The Centenarian Acharya, well-known by devotees around the world and affectionately called as Shri Kanchi MahaSwamiji, the Sage of Kanchi, Shri Paramacharya, was venerated for his profound knowledge of the Vedas and sastras and for his clear elucidation of the messages contained therein in a simple language that could be easily understood by the common man.
The present Acharyas Shri Jayendra Saraswathi Swamiji and Shri Shankara Vijayendra Saraswathi Swamiji, the 69th and 70th Acharyas of Kanchi Kamakoti Peetam, have followed in the footsteps of their Guru, the great Sage of Kanchi, and have continued to nurture the many institutions and schemes introduced previously by MahaSwamiji.
Besides the many Veda patashalas and universities that continue to support students and scholars alike, Kanchi Kamakoti Peetam has introduced many planned social welfare schemes to uplift the lives of millions of the poor and oppressed.
Under the auspices of Kanchi Kamakoti Seva Foundation Midwest Chapter (www.kksfmidwest.org), this MahaRudram is being performed for Loka Kshema, (world welfare and peace). Shri MahaRudram is the one of the most sacred forms of worship of Lord Shiva.
Led by 18 Vedic pandithas (scholars), over 121 rithwiks will chant the Shri Rudram, 11 times, each interleaved with a canto from Shri Chamakam. This will be followed by one-tenth (133) recitations for purposes of homam or havan. Shri Rudram is an ancient Vedic hymn drawn from Krishna Yajur Veda, and chanting it is considered to be of great benefit. It occupies the very central part of all Vedas and Lord Shiva's name is invoked to grant various boons and prosperity and well-being to the devotees.
It is not often that a Yajna of this significance and magnitude can be witnessed in our community. KKSF performed the last MahaRudra Yagnam during October 2009 at Chinmaya Mission, Willowbrook, IL. It is done particularly for the sake of washing away one's sins and afflictions, and for bringing world peace, prosperity and happiness.
Over 18 Vedic priests and 121 trained Vedic students from all over the US, Canada are expected to participate in the three-day proceedings.
Following are the details of the three-day celebrations:
Friday June 9: The function begins with Guru Vandanam, Shri Maha Ganapathi Puja, Varuna Puja, Ganapathi, Navagraha, Avahanthi Homam in the morning. In the evening, there will be a children's shloka recitation session followed by bhajans and lectures, followed by women performing Shri Lalitha Sahasranama kumkumarchana, and Mangala Arathi.
Saturday June 10: In the morning, 121 trained Vedic students, led by over Vedic scholars, will chant Shri Mahanyasa, Shri Rudra Japam with concurrent Maha Abhishekams to Lord Shiva, Shri Devi, and Shri Guru Padukas, followed by Rudra Kramaarchana. In parallel, Shri Rudra Homam will be performed by Vedic scholars, concluding with Poornahuthi and Vasordhara. The evening program will include shloka recitations, bhajans, spiritual discourse followed by Veda parayanam by the assembled Vedic scholars and conclude with Mangala Harathi.
Sunday June 11: Guru Vandanam, Aruna Prashna Parayanam with Surya Namaskara, followed by Guru Puja, MahaMangala Harathi, Prasada viniyogam.