Namaste Mumbai Media Associates,
  **This special broadcast is being sent to 2640 Mumbai media associates email**
Your Media Coverage For World Hindu Economic Forum
Mumbai Submit 2018 Is Much Appreciated
http://www.wheforum.org/events/whef-mumbai-jan-2018/
Mumbai is the financial capital of India and Mumbai based media associates – Editors, reporters, journalists, bloggers can help us succeed in our objective of empowering Hindu business network.
On January 20, 2018, at Sir Dinshaw Petit International Convention Hall, Bombay Stock Exchange, World Hindu Economic Forum will organize WHEF Business Summit@Mumbai "Accelerating Economy of Bharat". We will appreciate and thank you for your media support towards empowerment of of Hindu business network submit. Feel free to leverage content from below news link and publish cum circulate it extensively on your digital, print and TV media.  Your understanding and media support will empower World Hindu Economic Forum, which empowers Hindu business worldwide, thus benefiting entire Hindu society and Bharat. We look forward to welcome you all on behalf of World Hindu News media. You are most welcome to publish pre event, live and post event news in your digital, TV and print pubications.
      Yours Truly,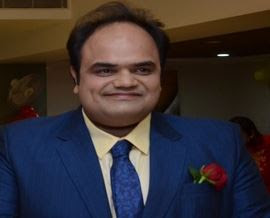 Rahul Chandra Sharma
Executive Editor, World Hindu News
---
---
Event: WHEF Business Summit@Mumbai "Accelerating Economy of Bharat"
Date: January 20, 2018, 9 AM to 6 PM
Venue: Sir Dinshaw Petit International Convention Hall, Bombay Stock Exchange, Phiroze Jeejeebhoy Towers, Dalal Street, Mumbai, Bharat – 400001
Bharat, the largest Democracy that automatically translates into one of the largest markets in the world, is now poised to become an economic power house leading the world in the 21 st century. Through the platform of Hindu Economic Forum, Mumbai, WHEF invites you to participate in this journey of "Accelerating the Economy of Bharat"-
Guests of Honour: Sri. Suresh Prabhu, Hon. Minister for Commerce and Industry
Eminent Speaker: Sri. Bibek Debroy, Chief of Economic Advisory Council to the Prime Minister, Member – NITI Ayog.
Speakers from respective fields will share their expert views on :
Policy for Trade & Commerce, Banking & Finance for Accelerating Growth
Infrastructure Development – Key Factor For Accelerating the Economy
MSME and Agriculture – Backbone of Economy
Business Success stories
The event provides a unique opportunity to network with diverse business owners, investors,
technocrats and policy makers.
Contact Details: Vaibhav Patil (+91-9821976345) | mumbai.hef@gmail.com
---
Registration
Participation Fee per delegate:
Early bird registration until 10 Jan 2018: Rs. 2500 + 18% GST i.e. Rs. 2950
After 10 Jan 2018: Rs 4000 + 18% GST i.e. Rs 4720
Please fill the following form to submit your registration request:
---
Payment Mode:
By NEFT (net banking transfer)
Bank Name:               Axis Bank
Account Name:         Hindu Economic Forum
Account Number:      917010070731071
Branch:                     Sector-9, Gurugram, Haryana
IFSC Code:               UTIB0003208
By Cheque in the Name of "Hindu Economic Forum" – to be sent to HEF Mumbai, 146/A, Govt. Industrial Estate, Hindustan Naka, Charkop, Kandivali (West),    Mumbai – 400 067
After completing the payment, send an email to mumbai.hef@gmail.com with the cheque / NEFT transaction reference number. The event organising committee will then screen your registration request and their decision (final & binding) will be communicated by email.