---
WHN | Jan 21, 2018, 12:23 EST
MUMBAI: World Hindu Economic Conference at Sir Dinshaw Petit International Convention Hall, Bombay Stock Exchange too place accelerating networking of Hindu businessman , start up enterprenerous and other dignitaries in the Mumbai region. The conference was attended by more than hundread delegates and special guests from Mumbai area, parts of India and many traveled internationally to join it.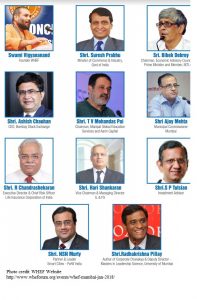 Some key note speakers in the conference were Mr.Suresh Prabhu, Minister for Commerce and Industry and Mr. Bibek Debroy, Chief of Economic Advisory Council to the Prime Minister, Member – NITI Ayog.
That includes the comissioner of BMC Mr. Ajoy Mehta who spoke on affordable housing strategies by BMC and how more green belt and recreational area is being generated in Mumbai by BMC's innovative plans. Mr. Hari Shankaran Managing director of IL & FS spoke on coporate social responcibility projects his firm is engaged with and how it's empowering humanity.
Other subjects included policy for trade, commerce, banking for accelerating growth, MSME and agriculture and business success stories.
Swami Vigyanananda – Founder of World Hindu Economic Forum informed the audience on past conferences which encompass Hindu Media Forum, Hindu Political Forum, Hindu Org. Forum, Hindu Woman Network, Hindu Youth Network along with the staggering Hindu Business Forum. He also spoke on the upcoming World Hindu Congress 2018 to be held in Chicago, USA. The conference will be one big event in the history of United States bringing key Hindu intellectuals, activists, political leaders and socio – political personalties at one platform at global scale. Delegates lauded the efforts of Mumbai chapter of WHEF organized who volunteered to organize it so professionally.
Many start up entrepreneurs spoke on their plans and projects which were keenly heard by the venture capitalists present at the conference. World Hindu Economic Conference held at Bombay Stock Exchange is the first such conference in the Mumbai region.
The event provided a unique opportunity to network with diverse business owners, investors, technocrats and policy makers.
---
SOURCE:  WHN Reporter