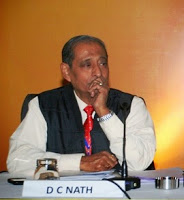 President of Patriots Forum, D.C. Nath was superannuated in January, 1995, as the Special Director, Intelligence Bureau, D.C. Nath (IPS-1960) was associated with the International Institute of Security and Safety Management (IISSM), headquartered in New Delhi, for over 14 years, first as the Executive President & CEO and then as the President & Director General, between February, 1997 and March, 2011. The author of a highly acclaimed book, Intelligence Imperatives for India, Mr. Nath earned high plaudits from all around for two of his very significant presentations on: "Revisiting the Future of India" (2005, London) and "Lessons from India for the War On Terrorism" (2007, USA). He is the only one in the field, combining the experiences of a police officer with specialization in intelligence and strategic analysis and an industrial security expert par excellence. More Bio on D. C. Nath…
OPINION>>>>
February 13, 2015
Dear Friends,
Subject: Further To Telengana
'Hope you recall our mail on Telengana's progress towards "Islamisation", sent out a few days back. Looking back, it was an expression of feeling hurt at the news item that the noted Rabindra Bhavan in the city was being demolished. What has come out since is some thing we never anticipated. And, now more is coming out.
Before that. We have been roundly upbraided for our ignorance, in suitable language, by some recipient/s of our mail, not sent by us but somehow received by them from other friend/s. It was also suspected whether we were "Andhraites" trying to create mischief.
Let us make a point clear for friends like them. We have no political agenda or any other vested interest against the State of Telengana. Yet, we have a positive motto. That is, to highlight developments any where, even outside India, that to our understanding go against India's national integrity and security or would adversely affect the age-old Indic civilisation.
Let us now read a small mail that just reached us:
Quote (.)
Telangana appeals Saudi Arabia to open its consulate in Hyderabad
Thursday, 12 February 2015
New Delhi, February 12: Telangana Government today approached Saudi Arabian authorities seeking to set up a consulate of the Kingdom in Hyderabad.
State's Deputy Chief Minister Mahmood Ali also called on External Affairs Minister Sushma Swaraj urging her to establish a Passport Office at the Old City of Hyderabad.
Ali met Saudi Arabian Ambassador here to press for a consulate for the convenience of thousands of Telangana-based workers employed in the country.
"Hyderabad and Saudi Arabia share a relationship for over 100 years… Besides, Telangana has more Muslim population as compared with two other southern states," Ali told reporters.
Ali said he had explained about the historical relations between Hyderabad Nizam and Saudi Arabia and pointed out that a consulate would be helpful for Haj pilgrims also.
The Government of Telangana would be writing to the Saudi Arabian External Affairs Ministry in this connection, he said, while adding that the Saudi authorities have assured to look into the demand.
–PTI
Unquote (.)
Well, there is nothing to explain about the contents of the above mail. The message is clear. A question comes into our "dirty" mind: is this the time for this infant state to take on such issues for a specific community? What is the pressing need for it now? Does this not support our hunch about attempted Islamisation of the just-born State? And, the issue of the Nizam has been raised. With that, will the revival of the Razakars be far behind?
As the friend sending this mail very aptly titled it, it provides us- "Food For Thought". So, let us think and think what can we do to protect and defend our future and our civilastaional ethos?
Vandemataram,
Your sevak,
D.C. Nath
(Former Spl. Director, IB)
(President, Patriots' Forum)
Source: Patriot Forum
Disclaimer: The opinions expressed within this article /news /published content are the personal opinions of the submitting author / organization. World Hindu News  is not responsible for the accuracy, completeness, suitability, or validity of any information on this article /news/published content. All information  received is provided on an as-is basis. The information, facts or opinions appearing in the article / news /published content do not reflect the views of World Hindu News and World Hindu News does not assume any responsibility or liability for the same.