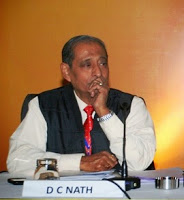 President of Patriots Forum, D.C. Nath was superannuated in January, 1995, as the Special Director, Intelligence Bureau, D.C. Nath (IPS-1960) was associated with the International Institute of Security and Safety Management (IISSM), headquartered in New Delhi, for over 14 years, first as the Executive President & CEO and then as the President & Director General, between February, 1997 and March, 2011. The author of a highly acclaimed book, Intelligence Imperatives for India, Mr. Nath earned high plaudits from all around for two of his very significant presentations on: "Revisiting the Future of India" (2005, London) and "Lessons from India for the War On Terrorism" (2007, USA). He is the only one in the field, combining the experiences of a police officer with specialization in intelligence and strategic analysis and an industrial security expert par excellence. More Bio on D. C. Nath…
News Research & Analysis Files-
15,000 join anti-Islam protest in Eastern Germany << News analysis file 1
German chancellor calls for unity against Islam      << News analysis file 2
OPINION>>>>
December 18, 2014
Dear Friends,
Subject: Germany Against Islam
Truly there is no end to learning and so we have a lot to learn from what German Chancellor Angela Merkel has launched. It may be correct to say she is not late by a day.
We had in the recent past some good exposure to the German views on Islam. Now we learn what actually the German government has undertaken to do. We attach in this connection one PTI report from "The Statesman" of December 17 with the caption that hits on the point straight, "Markel For Unity Against Islam", and the other one from "The Asian Age", which says, "15,000 Join Anti-Islam Protest In E. Germany".
Alarmed by the growing popularity of an anti-Islam movement in Germany, Chancellor Angela Merkel and other government leaders have appealed to the public to stay away from it and not to "become tools" in the hands of the organisers of such events.
The exact words spoken by the German Chancellor were:
"There is freedom of demonstration in Germany, but there is no place for spreading hatred and slander against people who come to us from other countries," Merkel said at a news conference here yesterday. Therefore, everyone should be careful not to become tools in the hands of the organisers of such events, she said."
Merkel has been duly supported by Justice Minister Heiko Mass in this movement that was organised by a right-wing group called 'Patriotic Europeans Against Islamisation of the West Pegida'. The movement began in the eastern German city of Dresden in September by staging demonstrations every Monday to protest against the government. Justice Minister expressed his apprehension in a media interview: that the anti-Islam protest movement could lead to a "new escalation of the agitation against migrants and refugees"
Well friends, do not now think even though India boasts of a pluralistic, multicultural and assimilative cultural inheritance, we have a lot to learn from what Germany have undertaken to defend their personal religion or rather religious ethos, perhaps well in time?
Vandemataram,
Your sevak,
D.C. Nath
(Former Spl. Director, IB)
(President, Patriots' Forum)
Source: Patriot Forum
Disclaimer: The opinions expressed within this article /news /published content are the personal opinions of the submitting author / organization. World Hindu News  is not responsible for the accuracy, completeness, suitability, or validity of any information on this article /news/published content. All information  received is provided on an as-is basis. The information, facts or opinions appearing in the article / news /published content do not reflect the views of World Hindu News and World Hindu News does not assume any responsibility or liability for the same.