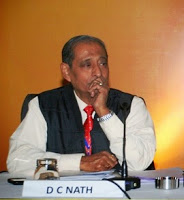 President of Patriots Forum, D.C. Nath was superannuated in January, 1995, as the Special Director, Intelligence Bureau, D.C. Nath (IPS-1960) was associated with the International Institute of Security and Safety Management (IISSM), headquartered in New Delhi, for over 14 years, first as the Executive President & CEO and then as the President & Director General, between February, 1997 and March, 2011. The author of a highly acclaimed book, Intelligence Imperatives for India, Mr. Nath earned high plaudits from all around for two of his very significant presentations on: "Revisiting the Future of India" (2005, London) and "Lessons from India for the War On Terrorism" (2007, USA). He is the only one in the field, combining the experiences of a police officer with specialization in intelligence and strategic analysis and an industrial security expert par excellence. More Bio on D. C. Nath…
OPINION>>>>
September 26, 2015
Dear Friends,
Subject: Is An Act Of Terrorism Preventable? Some Thoughts.
Today, we are into a very difficult problem—a problem of life or death, if one can put it in simple layman's language. We have studied and re-studied a very scholarly and enlightening piece on "From Countering To Preventing Terrorism" from an eminent expert-cum-author on the subject.
(http://www.counterterrorbusiness.com/index.php/features/74-counter-terrorism-strategy/1215-from-countering-to-preventing-terrorism)
Our efforts would be to put across the thoughts and ideas in this analysis in our own way. rather in a manner understandable to us.
Be it AL Qaeda, Taliban or the latest and the biggest ever formation and manifestation of the worst kind of terrorism the world has ever faced, terrorism has become a "global phenomenon". The level or the kind of violence generated, at least with the emergence of the ISIS and its Caliphate, cannot indeed be countered or successfully eliminated by counter violence.
So, the thinkers and analysts are breaking their heads on some, in medical terminology, "alternative method" of treatment. The consensus so far is to "catch them young". That starts with the youth—how to prevent them from being radicalised, that is, being initiated into this trade or life of terrorism. This often happens without their realising that. There was an interesting debate, as the author points out, in the UN Security Council on "The Role Of The Youth In Countering Violent Extremism And Promoting Peace".
The attached paper also further observes in the same context, "They are the future engine of change. As Professor Atran advised the Security Council last month, there is a need to provide the youth with programmes that offer them something that makes them dream of a life of significance, a positive and achievable personal dream, and the chance to create their own local initiatives." It must not, however, be understood that the unemployed and aimless youth only run this business. The game changers are all well educated and social media friendly.
Among the new strategies would, therefore, be to reverse the old system of facing the bullet with a bullet and to ensure good governance, as we want in areas affected by our own Maoist violence. The paper puts it beautifully, "Missiles may kill terrorist, but good governance kills terrorism".
A significant aspect often neglected is the role of the private sector in this new approach. The vast network of private security agencies is indeed being suitably utilised in some countries very effectively, especially in reducing corruption.
The author finally concludes:
"In short, what is needed is a move away from our current reactionary approach that relies on countering to preventing violent extremism. These elements of this "new" prevention strategy are already being debated seriously inside the United Nations. Mr Ban Ki-moon himself publically declared that he is in the process of developing "a comprehensive Plan of Action to Prevent Violent Extremism that will seek to engage and empower youth." Some of the elements of this plan have already been discussed here. They include the protection of human rights and civil liberties, reducing corruption, promoting good governance and fostering a culture of peace by deploying "weapons of mass instruction instead of weapons of mass destruction."
Friends, we hope you will bear with us a little more if we take some more of your time. We humbly feel tempted to draw some lessons from this brilliant study for our motherland.
What we could do:
· First, a free-wheeling brain -storming session with experts from the Ministries of Home Affairs, External Affairs, Minority Affairs and HRD as well as experts from the private world, on working out a detailed programme to prevent radicalisation of the youth, who often get radicalised unknowingly also.
· Second, it would be essential to remember that advancing technology today implies job-shrinkage for the youth. How to get over that?
· Thirdly, to organise larger conclave how to ensure good governance that kills terrorism?
· Fourthly, to involve the vast network of private security agencies. Most of them, we can say from personal experience, are too willing to cooperate with the government and have in practice done so on the ground.
· Fifthly, governments' minority appeasement policy is a certainly a step forward towards radicalisation of the youth. This betrays tolerance not called for and warrants appropriate remedial action on the part of the concerned agencies at the earliest.
Friends, we do not wish to tax your patience any more. We are certain some of you, on reading this mail and the original paper, will certainly indulge in thinking and come out with more remedial measures. We would indeed look forward to that.
Vandemataram,
Your sevak,
D.C. Nath
(Former Spl. Director, IB)
(President, Patriots' Forum)
Copy to:
· The Union Home Minister,
(Shri Rajnath Singh)
· Cabinet Secretary
(Shri Pradeep Kumar Sinha)
· The Minister for External Affairs,
(Suhama Swaraj)
· The Minister For Minority Affairs,
(Smt. Najma Heptulla),
· The Minister for HRD Ministry
(Smt. Smriti Zubin Irani)
· The Union Home Secretary
(Shri L.C. Goyal)
· The National Security Advisor,
(Shri A K Doval)
For favour of action as thought appropriate.
Yours sincerely,
D.C. Nath
(Former Spl. Director, IB)
(President, Patriots' Forum)
Source: Patriot Forum
Disclaimer: The opinions expressed within this article /news /published content are the personal opinions of the submitting author / organization. World Hindu News  is not responsible for the accuracy, completeness, suitability, or validity of any information on this article /news/published content. All information  received is provided on an as-is basis. The information, facts or opinions appearing in the article / news /published content do not reflect the views of World Hindu News and World Hindu News does not assume any responsibility or liability for the same.