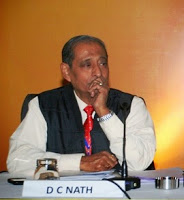 President of 

Patriots

Forum, D.C. Nath was superannuated in January, 1995, as the Special Director, Intelligence

Bureau

, D.C. Nath (IPS-1960) was associated with the International Institute of Security and Safety Management (IISSM), headquartered in New Delhi, for over 14 years, first as the Executive President & CEO and then as the President & Director General, between February, 1997 and March, 2011. The author of a highly acclaimed book, Intelligence Imperatives for India, Mr. Nath earned high plaudits from all around for two of his very significant presentations on: "Revisiting the Future of India" (2005, London) and "Lessons from India for the War On Terrorism" (2007, USA). He is the only one in the field, combining the experiences of a police officer with specialization in intelligence and strategic analysis and an industrial security expert par excellence. More Bio on D. C. Nath…
Reference Attachments:
OPINION>>>>
April 18, 2016
Dear Friends,
Subject: Past Imperfect—Project Of Islamisation Or "Retribalisation"
We have today a very learned and difficult piece on "The Past Imperfect", appearing in The Indian Express of April 16, 2016, by no less a scholar than Khaled Ahmed. (Copy attached)
"Khaled identifies Radicalisation is another name for retribalisation. The Arab world saw its population squeezed into big cities earlier than India and Pakistan, where agriculture has kept a majority of people out of cities. But in subcontinental cities, the rising middle class is turning to religion and increasingly electing rightwing, religion-favouring parties to power. In Pakistan, large swathes of territory are occupied by the "proud" and "warlike" tribes deeply committed to sectarian Islam. But in the cities, the rising madrasa is retribalising the urban middle class as well because of the tribal-law-based faith it preaches."
So, Khaled says, "Muslims are undecided about modifying the law of diyat (blood money), which anciently existed among tribes. Sadly, in the 21st century, they are moving towards a literalist interpretation of their law. In other words, the project of Islamisation is a kind of planned retribalisation of the state. The expat Muslim, therefore, is not only alienated/ dislocated by migration; he is also retribalising himself as a mark of the identity he thinks he is losing."
Quoting some authority, Khaled pointed out, "The wave of terrorism striking the Muslim world was essentially "a clash, not between civilisations based on religion, but between central governments and the tribal communities on the periphery". So, he thinks America is waging a global war, not against terrorism, but against the tribal societies of Islam."
Referring to Pakistan, Khaled averred, "Pakistan itself is going thorough a transition from soft Barelvi Islam of the mystical kind to the hard Deobandi Islam of jihad. Pakistan stopped sending out its Barelvi preachers without London, realising what was happening till it became "Londonistan".
Khaled has been brutally frank on Pakistan. Talking about religious disaffection in Pakistan, Khaled's view is: "Pakistan will be endangered if the Taliban gets back in power in Afghanistan. Had Pakistan and India not chosen Afghanistan as their next battlefield, they could have cooperated for survival against the rise of outfits like the Islamic State. The revival of the Hindu religion in India doesn't help the disenchanted Pakistani leaders who belatedly try to observe Holi with their downtrodden Hindu communities."
Friends, we do hope you appreciate Khaled Ahmed's assessment of radicalisation of Muslims going apace in Pakistan and possible interplay of Taliban in Afghanistan and Pakistan and the need for India playing some positive role in the area,especially in Afghanistan. Till such time, the overall situation will remain "Present Imperfect".
Friends, let us extend kudos to Khaled Ahmed for presenting this interesting piece.
Vandemataram,
Your sevak,
D.C. Nath
(Former Spl. Director, IB)
(President, Patriots' Forum)
Copy forwarded for favour of action, as thought appropriate:
· The Minister for External Affairs,
(Sushama Swaraj)
· Foreign Secretary,
(Shri Subrahmanyam Jaishankar)
· Cabinet Secretary
(Shri Pradeep Kumar Sinha)
· The Prime Minister's Office
(Shri P.K. Mishra)
· The Prime Minster's Office II
· The Union Home Minister,
(Shri Rajnath Singh)
· The Union Home Secretary
(Shri Rajiv Mehrishi)
· The National Security Advisor,
(Shri A K Doval)
Yours sincerely,
D.C. Nath
(Former Spl. Director, IB)
(President, Patriots' Forum)
To
The Editor,
The Indian Express
With the reqeust to reach our appreciation to Khaled Ahmed.
Yours sincerely,
D.C. Nath
(Former Spl. Director, IB)
(President, Patriots' Forum)
Source: Patriot Forum
Disclaimer: The opinions expressed within this article /news /published content are the personal opinions of the submitting author / organization. World Hindu News  is not responsible for the accuracy, completeness, suitability, or validity of any information on this article /news/published content. All information  received is provided on an as-is basis. The information, facts or opinions appearing in the article / news /published content do not reflect the views of World Hindu News and World Hindu News does not assume any responsibility or liability for the same.