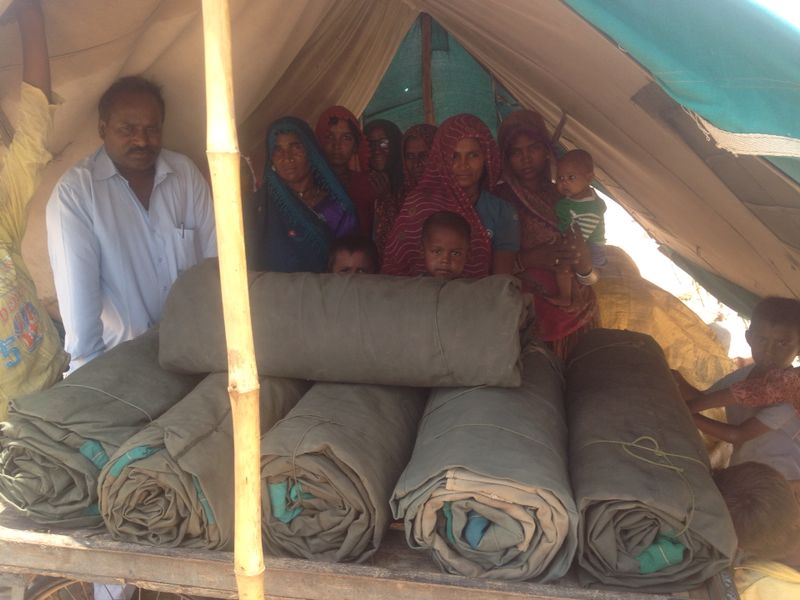 Pakistani Hindu Refugee Relief Program (PHRRP) Donated Tents to Pakistani Hindu Refugees based out of India
May 8, 2014 [Jodhpur, Rajasthan, India]
Pakistan Hindu Refugee Relief Program (PHRRP) donated six tents to six Pakistani Hindu families based out of Jodhpur Rajasthan. The program was implemented in coordination with Jodhpur based PHRRP team whose lead is Mr. Vikram Parihar.
Donation Snapshot:
| | | |
| --- | --- | --- |
| a. | Date of Donation | May 3rd 2013 |
| b. | Place of Donation (City/ State/ Country) | Kali Beli Temple Area / Jodhpur / Rajasthan/ India |
| c. | Refugee Group ID | INDIA-RAJASTHAN-JODHPUR-KALI BELI CAMP |
| d. | Nature of Donation | 8* 10 Ft Military Grade Tents |
| e. | Contributing Members | VHPA, HAF, Individuals, WHF |
| f. | Donation Event Lead | Mr. Vikram Parihar |
| g. | Number of families impacted | 06 |
Background & Requirement: There has been an influx of tens of refugee families in Rajasthan and other regions of Northern India from Pakistan after facing severe human rights violations.
The six families who were donated tents were a part of large group who is based at Papu Temple, Near Mandor Bypass Road, Jodhpur, Rajasthan, India. The donation of tents enables families to reside safely in open surroundings – open grounds etc. where most of refugees are based. Tents are of military grade and help protect the Hindu refugees from forces of nature and snakes – insects prevalent in this desert region. In this region of Northern India – there are winds, direct sun and temperatures reaches 48 degree Celsius during summers and 0 degree Celsius during winters.
Next in Pakistan Hindu Refugee Relief Program (PHRRP) we have a donation of foot wear (shoes and sandals) planned for Delhi based refugee group of 60 persons. Mr. Hemant Sharma – PHRRP Delhi based coordinator is lead for Delhi based PHRRP Team.
PHRRP Program:
Pakistan Hindu Refugee Relief Program (PHRRP) is an ongoing global program to provide relief and assistance to migrated Pakistani Hindu Refugees in India and globally. Assistance majorly comprises groceries, items of daily sustenance, 8in * 10in Tents for family (04 person capacity), medical visits by doctors, medicine purchase, legal assistance, requests and meeting facilitation with local and state administration for facilitating relief in terms of land allocation, water and accommodation in Govt. sponsored shelter for homeless. The program currently is assisting refugees based out of cities of Rajasthan and Delhi /NCR region. The program is an umbrella project of multiple US based Hindu organizations like World Hindu Council of America (VHPA), Hindu American Foundation (HAF), Hindu Congress of America (HMSA) and various Sindhi Groups based out of USA. In India the program is being supported by members of Vishwa Hindu Parishad (VHP), Hindu Helpline and Youth for Nation volunteers. As more refugee camps are located, the program plans to expand in operations.
More information on this program can be researched at: www.pakhindurefugeerelief.wordpress.com
# You can support this program from anywhere around the world, you can mail parcels of items to our India based PHRRP locations, donate funds via our website / mail checks or help in spreading this program data in your city and implement donation drives.
Please feel free to circulate this press release and publish at your media portals.
To volunteer, donate and support this program write to PHRRP program director
Mr. Rahul Chandra at:  rahul.chandra@vhp-america.org   or call: ​+1 713 429 4037.
If your city / village have Pakistani Hindu Refugees, please email us at rahul.chandra@vhp-america.org  or call call: ​+1 713 429 4037.
Source: www.pakhindurefugeerelief.wordpress.com