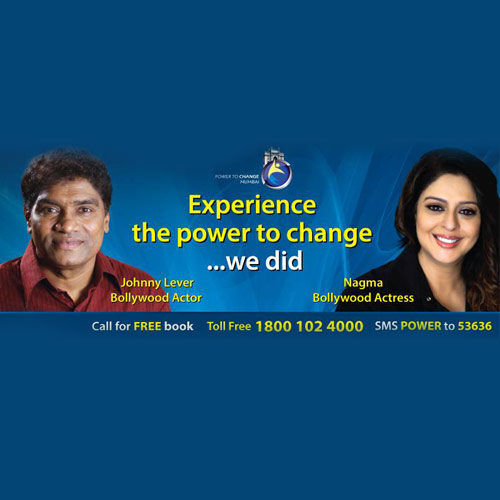 Canadian company mounts multimedia campaign to aid conversion, creates a row.
Conversion, counselling or power to change? It's a question worth many crores.
A multimedia, multi-crore campaign, spread across newspapers, hoardings and in railway stations, masquerading as testimonials, turns out to be a Christian mission at conversion.
The ad, under the heading Power To Change, has people from different walks of life and different communities sharing what changed their lives. The advertisement urges readers to call for a free book of these 'exciting stories', which will then be delivered by volunteers who will also talk about Christianity.
The campaign, described by organisers as counselling, has also put Railways in trouble.
A senior railway official told dna that the rules pertaining to advertising within trains or railway premises say there should be no religious connotations or messages that denigrates another religion, or have political propaganda or violate any tenet of the Constitution.
The entire campaign, experts feel, would have cost approximately Rs20 crore, and has been running in Mumbai for around six months. The hidden aim of the Power to Change campaign is to show 'the path of Jesus' to Mumbaiites, urging them to convert to Christianity.
A media planner told dna that the Mumbai campaign alone would have cost close to Rs5 crore. "Unless you have an ad spend of at least Rs1 crore, it's futile to even venture into such an activity," said a media buyer of a leading national ad agency.
"High-visibility campaigns like this would involve an ad spend of Rs4-5 crore at least," he said.
This leaves out its earlier campaigns in other cities like Hyderabad.
The Power to Change campaign in India is being funded by its parent organisation based in Canada, whose prime aim is to spread Christianity, in collaboration with Christian ministries and local church leaders.
This campaign has been to 60 cities across the world in the past 10 years, including two Indian cities Hyderabad and Mumbai since the organisation's launch in India in 2011.
Starting as a fledgling online campaign, PTC first uploaded testimonial videos to 'test the markets' before publishing a book of testimonials in May 2012, featuring 14 Indians, including Bollywood stars Johnny Lever and Nagma.
The faceless campaign is run through a call centre in Mumbai, which generates a database of prospects, who are reached by volunteers armed with the book.
In an interview to the US-based Christian Broadcasting Network, Hannu Haukka, president of Great Commission Media Ministries, who helped develop the campaigns in India, said "it's an effective way to saturate the unreached, urban populations".
"We are not bringing people into a stadium. We are actually with the churches going out and targeting whole cities," Haukka said, adding such testimonies, dramatised through the PTC campaign, gave local churches a powerful new way to reach out to their city and increase the fold.
"And we're talking about Hindus and Muslims; something that churches have never seen," he told CBN.
Speaking about the Mumbai campaign, Shelton Davidson, who is associated with PTC, said, "Conversion is a misnomer; what we do is counselling."
Stating that even Jesus didn't convert people but just showed them the right path, Davidson said, "It's not a change of name, it's just a change of heart."
Meanwhile, Johnny Lever, is distancing himself from the campaign.
"Yes, I am a Christian and I have shared my life's story, but I don't agree with promoting religion by offending  someone else's religion," said Lever, adding that he has requested PTC to go slow on his testimonial.
The VHP has already got into the act. "We tore the posters of PTC at railway stations and demonstrated outside Lever's house," said Venkatesh Abdeo, Mumbai-based central secretary of VHP.
The splurge
Unless you have an ad spend of at least Rs1 crore, it's futile to even venture into such an activity, says a media buyer of a national ad agency.