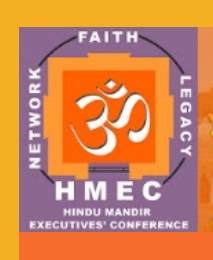 The spread of COVID-19 virus with its global dimension has affected the
lives globally in one way or another. In these times of calamity, Hindu dharma empowers us with the power of HAVAN (Yagna) as a purifier and collective prayers/mantra chanting. The divine vibrations generated by
collective prayers can alleviate the suffering and distress of the community, and indeed all human beings across North America and around the world.
March 15th, 2020 has been declared as National Day of Prayer by President Donald Trump.

Hindu Mandir Executives' Conference (HMEC), the body representing 400+ Hindu mandirs, institutions, Meditation & Yoga groups in North America, is therefore proposing collective HAVAN and prayers across North America for the well-being of the community and to address growing mental health and collective anxiety concerns arising from the COVID- 19 pandemic.
Hindu American community can adopt a two-pronged approach to pray in this initiative as listed below:
Prayers at the Temples & Organizations:
All the Temples are requested to conduct HAVAN (Yagna) on Sunday, Mar 15th, 2020 between 11:00 am and 5:00pm Local time. If possible, perform HAVAN on subsequent Sundays as well. Devotees are highly encouraged to "Pray from Home" when the Havan is being performed at their respective Temples. Facebook live or video recording can be enabled by the Temple Management for the devotees to participate remotely in the prayer proceedings. HMEC/ VHPA encourages the devotees to follow the CDC and local health department guidelines regarding COVID-19.

Prayers by the Individuals (Virtual Satsang):
Everyone, irrespective of their Sampradaya, are encouraged to perform prayers remotely (virtual Satsang) at their respective homes (no collective gatherings – please follow CDC guidelines), to tap into healing powers of the prayers/mantras. You can find some suggested steps/ mantras here.

Time: Daily prayers.

It is important that we all do this at the same time. To be part of US Government's National Day of Prayer initiative it is critical that we collect and report the data. So, please send a brief of your HAVAN and prayer performance (e.g. Number of chants, duration of prayer, name and place where performed etc.) to office@vhp-america.org
---
Source: VHPA