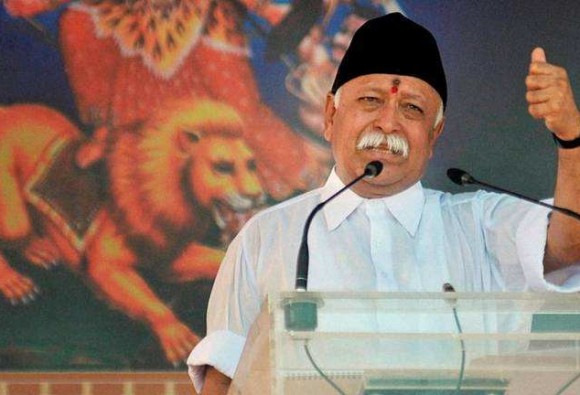 Pune: RSS chief Mohan Bhagwat on Thursday fielded blunt questions from college students – ranging from job reservation to Ram Mandir – during an unusual interaction for a head of the Nagpur-based Sangh Parivar fountainhead.
Bhagwat, whose statement on the need to review reservation system had sparked a controversy ahead of Bihar elections last year, came out in support of quota for downtrodden castes in government jobs and education institutes.
Reservations must continue till the time "social discrimination" was going on in society, but should be implemented honestly, he said when asked about his views on quota policy.
The occasion was "Students' Parliament" organised by the Maharashtra Institute of Technology (MIT), an annual event happening for last many years, showcasing diverse political views of various party leaders aimed at promoting a mature democratic thought process among the youths.
It was perhaps the first such interaction with students by the RSS chief.
When a student asked Bhagwat about mix of religion and politics in the country, he came out with a repartee, "Ask those who do it. This question is not for me." This drew applause from the audience.
And then came a question on Ram Mandir, laced with sarcasm as another student wanted to know "Can building of Ram temple put rotis in the plates of the poor?"
Unruffled, Bhagwat quipped, "Have the rotis come without construction of the Mandir," as he averred that Lord Ram was the ideal man of the Hindu sanskriti (culture) and therefore ideals should be installed for inspiration.
On the reservation issue query, he added, "The RSS had no points of disagreement on the Constitution which was flexible enough to incorporate necessary changes warranted by changing times."
Striking a rapport with the students' gathering from various states, Bhagwat used Hindi, English and Sanskrit to communicate his thoughts on the symposium theme "Culture and Constitution" and ended his discourse with a gracious "Thank You".
Source: ABP Live.in