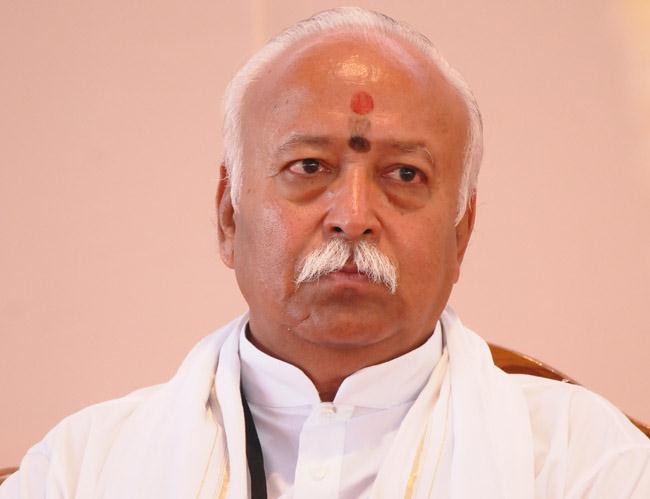 RSS chief Mohan Bhagwat has demanded a ban on beef exports from India, slammed Indians' lust for cheap Chinese imports and called Islamic terrorism a blowback of western greed in an address to cadres that surprised many with its largely conciliatory tone but raised the hackles of several others with its live telecast on state TV.
In his annual Vijayadashami speech at ReshimBagh headquarters of the RSS, Bhagwat on Friday touched upon topics ranging from ecology to cow slaughter to Islamic jihad as he lauded the Modi-led BJP government's performance and hinted at four states – Kerala, Tamil Nadu, West Bengal and Assam – as being possible focus areas for the Sangh's future political activities. 
Bhagwat's address this year was being especially watched for his observations on the BJP government's performance and also cues on its future social and economic policies. Also being closely watched was for any signs of triumphalism especially after the active role Sangh cadres played to bring the BJP to power and whether it would use its influence with the government to re-assert India's Hindu identity. The RSS chief has in recent speeches asserted India's identity as a Hindu nation and said that all Indians are Hindus. 
Bhagwat didn't mention any border incursions by the Chinese unlike his last year's speech, but he slammed Indian consumer's attitudes towards encouraging China which affected any possibility of increase in "self-reliance" and "Swadeshi" consumption. "Our tendency of buying daily need goods, even buying foreign made— especially Chinese–statues of our Gods and Goddesses, simply because they are cheaper in price, needs to be abandoned," he said.
The RSS leader said there was a sense of optimism prevalent in the country on account of the new government's policies. "The government should now ensure that these policies maintain their momentum in a determined and well organized manner. We need to wait for some more time, with a sense of hope and faith," he said. 
Suhas Palshikar, veteran political scientist, who have been tracking Sangh Parivar politics, said there was hardly anything new in Bhagwat's speech. 
"There always is a certain variation, but the issues of cow slaughter, Bangladeshi immigrants etc have their usual community-oriented message," said "These are mentioned not as a hint to the government or the BJP, but to the cadres. Through these issues, the RSS would like to exert pressure on the party and the government," Palshikar said.