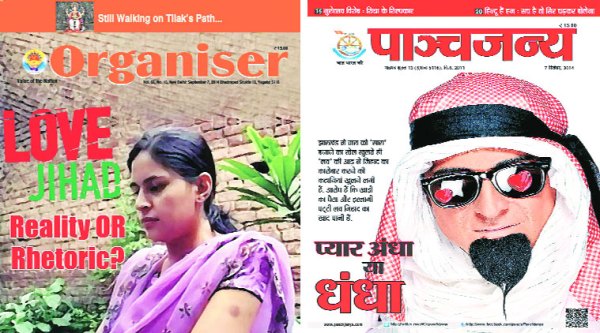 Within a fortnight of the BJP dropping plans to discuss "love jihad" at its UP state executive meeting, two Sangh magazines have put the alleged phenomenon of deceitful religious conversion of Hindu women on their covers.
The reports in the latest issues of the RSS mouthpieces in Hindi and English, Panchjanya and Organiser, urge people to raise the slogan, "Love ever, love jihad never!"
The Panchjanya cover has an illustration of a man wearing a kaffiyeh or traditional Arab headdress, a beard in the shape of a heart, and sinister sunglasses in which red hearts are reflected. The magazine asks on the cover, "Pyar andha ya dhandha (Is love blind or business)". The Organiser cover says, "Love Jihad Reality or Rhetoric?"
The cover stories in both magazines are about the alleged abduction, gangrape and forced conversion to Islam of a Hindu woman in Meerut, and the case of Tara Sahdev, a shooter from Jharkhand who has accused her husband of torturing and forcing her to change her religion.
This is the first time that the RSS has addressed the alleged phenomenon of love jihad through its mouthpieces. Sangh affiliates like the Vishwa Hindu Parishad, Bajrang Dal, Hindu Jagran Manch and Dharm Jagran Manch have earlier complained about the forced conversion of Hindu women, mainly to Islam, after a fake show of love.
In an interview to Panchjanya, RSS Sah-sarkaryawah Krishna Gopal has asked political parties to support Hindu women who become victims of love jihadis. Several parties, he has said, do not speak on the matter because they fear losing Muslim votes.
Organiser has said the Tara Sahdev case has brought forth the phenomenon of 'love jihad', which should now be analysed. This analysis, the report has suggested, might throw up uniform civil code as a solution to the problem.
The cover stories in the two RSS magazines have appeared in the middle of the election process for bypolls to 11 assembly seats and one Lok Sabha seat in Uttar Pradesh. Voting is scheduled for September 13. Alleged incidents of 'love jihad', in which Hindu women are alleged to have been targeted by Muslim men, have been reported from communally charged western Uttar Pradesh, where byelections are due in Bijnor, Thakurdwara, Saharanpur Nagar and Noida.
According to the Organiser report, love jihad is a trap laid by Muslim organisations to seduce Hindu women, use them to satisfy their lust, and to then convert them to Islam, sell them, or use them for terrorist activities. "There are examples of feigning love, followed by devastating tales of pain, suffering, blackmailing and torture for conversion," says the magazine.
According to the magazine, cases of love jihad to convert Sikh girls to Islam have been reported from England.
In the Panchjanya interview, Krishna Gopal has advocated.