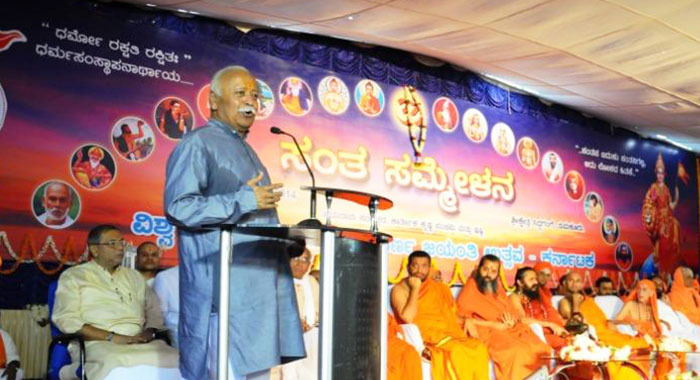 Mainstream Media always chooses to ignore the social work done by the RSS. NiTi Central brings you this weekly round-up of the Sangh and its affiliated organisations. These are events which have a social, economic and nationalist dimension.
Sant Sammelan pledges to end untouchability
A two-day Sant Sammelan at Tumakuru in Karnataka called for fighting against fraudulent religious conversions and pledged to end social evils like untouchability and casteism within Hindu society.
The historic Sant Sammelan, held on November 11 and 12, was organised by Vishwa Hindu Parishad as part of its Golden Jubilee celebration. As many as 600 seers from across the country attended the conclave. The seers shared their concerns on the emerging socio-religious challenges within and in front of Hindu society.
Inaugurating the Sant Sammelan, RSS Sarasanghachalak Mohan Bhagwat said:
"From the minds of the people, the narrow thoughts of casteism should be eradicated. We need to show a mirror which images the unity to each Hindu."
A five-point resolution was passed at the conclave. The resolution demanded a complete ban on export of cattle meat in India, pressed for making India a nation free from cow slaughter and urged the Government to declare the cow as 'national animal'. The resolution stressed on the need to implement Uniform Civil Code and legal measures to stop religious conversions. It demanded withdrawal of Medical Termination of Pregnancy Amendment Bill 2014.
RSS Pathsanchalan in Tamil Nadu
Thousands of RSS swayamsevaks courted arrest on November 9 as Tamil Nadu Police prevented them from taking out processions in Sangh uniform despite explicit orders of the Madras High Court permitting the RSS route marches to commemorate the 1000th coronation year of 11th century Tamil King Rajendra Chola.
On November 7, the Madras High Court had held that the right of citizens cannot be curtailed, except on definite reasons, and directed the Tamil Nadu Government to permit RSS to take out processions on specified routes and hold public meetings in places earmarked by them, with reasonable restrictions as the State deemed fit and proper.
RSS reaching out to slum dwellers
RSS sarasanghachalak Mohan Bhagwat on November 14 visited a slum located at Hombegoudanagar of Wilson Garden in Bengaluru. Bhagwat interacted with children and local residents there. The Wilson Garden's Hombegowdanagar slum is one of the 210 Seva Bastis being run by Rashtrotthana Parishat all across Bengaluru. Rashtrotthana Parishat, founded in 1965, is an initiative by the RSS for social reforms in Karnataka.
In the 'Seva Bastis', emphasis is given to the education of under-privileged kids and their cultural upbringing. The Parishat organises health check-up camps for the slum dwellers at regular intervals. Moreover, various vocational projects are also being undertaken by the Parishat to make slum dwellers self-reliant.
Bajrang Dal's blood donation drive
Bajrang Dal, the youth wing of VHP, conducted a countrywide drive on November 2 to motivate people for blood donations. The organisation mobilised as many as one lakh people across the country to donate blood.
The idea of organising such camps is to meet the growing requirement of blood across the country. In Delhi, VHP working president Dr Pravin Togadia inaugurated a mobile app called Blood 4 India. The app will help finding a blood donor.
Currently, India requires 8 million units of blood and the demand is increasing fast.
VKA's seminar on North-East States
Vanvasi Kalyan Ashram organised a seminar to discuss the problems being faced by people of North-Eastern States. The seminar, held on November 1 in Hyderabad, was organised in association with Samvit Kendra. Over 200 professionals from different walks of life attended the seminar. The meet condemned the recent attacks on North-Eastern people. Speakers in the meet opined universally that people of North-East have been contributing tremendously for nation building, but North-Eastern people are feeling alienated as their contributions are being ignored.