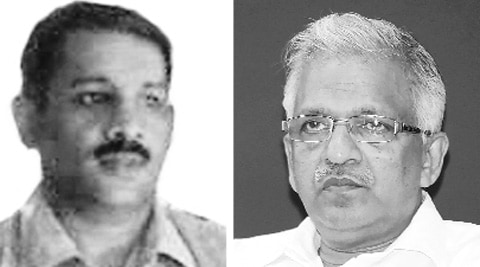 Fifteen years after he was involved in a murder attempt on senior CPM leader P Jayarajan, and on a day when BJP president Amit Shah and RSS chief Mohan Bhagwat were in Kerala, an RSS district functionary was hacked to death in Kannur on Monday.
The victim has been identified as RSS Kannur district sharirik shikshan pramukh E Manoj, 42.
Jayarajan, now the CPM district secretary and party state committee member, was attacked on the festival of Onam on August 25, 1999. Manoj's killers, who have not been identified yet, chose the same festival season — Onam falls on September 7 this year — to execute the murder.
Police said that the assailants hurled a crude bomb at the van in which Manoj and another RSS worker, Pramod, were travelling at Kathiroor near Thalassery. The vehicle lost control and hit a wall. The assailants then attacked the duo. Manoj died on the way to the hospital, while Pramod is undergoing treatment.
The BJP called for a statewide hartal on Tuesday to protest against the murder. Last week, a Bharatiya Mazdoor Sangh activist had died after he was attacked by a gang allegedly affiliated to the CPM.
North Kerala's Kannur district has a blood-stained history of rivalry between the CPM and the RSS. Both sides have lost several workers and leaders, but the region has seen few political murders in recent years.
Last week, while welcoming 350 CPM sympathisers into the BJP in Kannur, party leader P K Krishnadas had said that the Sangh Parivar did not want to engage in violence with the CPM.
When he was attacked in 1999, Jayarajan was the general manager of the CPM daily Deshabhimani. The assailants stormed his house at Kathiroor and almost severed his right hand, which had to be sutured back.
In 2007, the district sessions court had sentenced Manoj, the fifth accused in the case, and five others to 10-year rigorous imprisonment. The accused appealed to the high court, which stayed the sentence.
Manoj, also an accused in the murder of a CPM branch secretary, had been attacked in the past as well. In one such incident, he was attacked by a gang led by T K Rajeesh, alleged to be a hired killer of the CPM.
Prominent RSS leader Valsan Thillankery blamed the CPM for the murder.