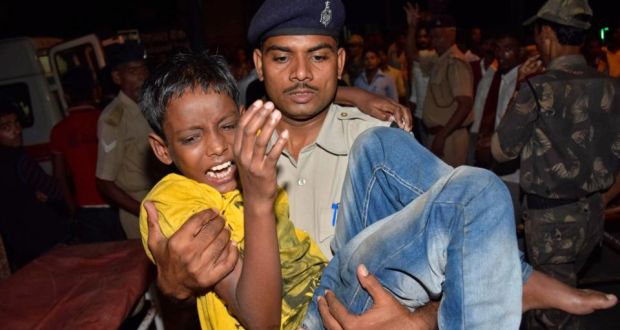 At least 32 people were killed in a stampede during a Hindu festival in the eastern Indian state of Bihar yesterday, most of them women and a few children, the state police chief said. A huge crowd had gathered at an outdoor venue in the state capital, Patna, for the burning of effigies at dusk, part of the Dusshera festival.
Officials said the stampede happened as people were leaving at the end of the event. TV channels quoted a witness as saying there were not enough lights when the ceremony ended.
At least 15 injured people were taken to hospital, the police chief, PK Thakur, said. Police are examining CCTV to determine what had triggered the stampede. "There was very little police presence and there were vendors who had put up their stalls at the exit gates, making it more difficult to leave," a witness told NDTV.
A police superintendent said some people reported that had they heard that a live electric wire had fallen on the ground.