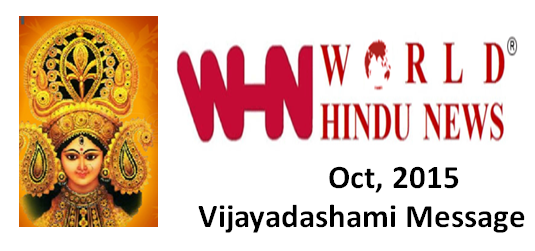 Dear Well Wishers of World Hindu News Program,
Namaste
WHN program best wishes of wealth and prosperity on sacred this sacred Navaratri & Diwali!
On behalf of ​​​World Hindu News program I thank you for your ​​continuum support. Your support has helped sustain and empower world's largest online Hindu news & media news program.
​As we approach second anniversary on Nov 14, 2015, the program would like to appreciate your support in any form – Financial subscriptions, advisory, event invitations, intellectual, partners, corporate sponsorship and our employees & consultants.
Unfortunately, the situation of Hindus in terms of local, national & international media and news coverage remains perilous in spite of the 2014 political governance change in India, whose mainstream media is the mother source of worldwide biased Hindu news.
Today, Hindus in a larger context are still suffering & struggling from serious news & media bias in India, Pakistan, Bangladesh, Malaysia and elsewhere. This situation is a result of the absence of foresight to comprehend importance of media & staunch leadership among the politically & financially powerful Hindu fraternity to support unbiased and astute Hindu news media houses.
​In such a repressive global scenario, our news & media company strives hard on a daily basis to capture, publish and dissipate unbiased and genuine Hindu news. Our foundation principal believes in serving news media requirement of all Hindu organizations irrespective of their ideological affiliations. Our advisory, editorial, research and IT boards have a mix of intellectuals with social work experience in vivid Hindu organizations.   ​Our philosophical diversity is our strength.
This is ​all ​possible because of well-wishers ​& dedicated supporters like you. 
Thank You!                 Dhanyavaad!
 Some ​updates:
World Hindu News now reaches readership in 200+ Countries (per Google Analytics)

​More than 5 million hits  (per Google Analytics)

Supports 150 Hindu organizations globally news requirement (WHN news aggreator system)

Weekly ​Newsletters to more than 100,000 emails Inc. 25K in US/Canada (WHN professional mailing services)
     (90% of our subscribers are volunteers, office bearer's leaders or supports in social, Dharmic & Political Hindu org.
5. ​Daily news publication and circulation ​at professional corporate grade
​6. World largest sustained online showcase of Hindu news and issues per continental geography
As a well wisher to World Hindu News program, please feel free to submit your feedback / recommendation to –  ​info@worldhindunews.com.
 Program sincerely thank Goddess Maa Saraswati for the intellect & wisdom she blessed us!
Program humbly pray to the goddess of wealth Maa Laxmi bless our 'Karma Yogi' program with wealth!
Yours in Dharma,
Rahul Chandra
Director,
​World Hindu News Program