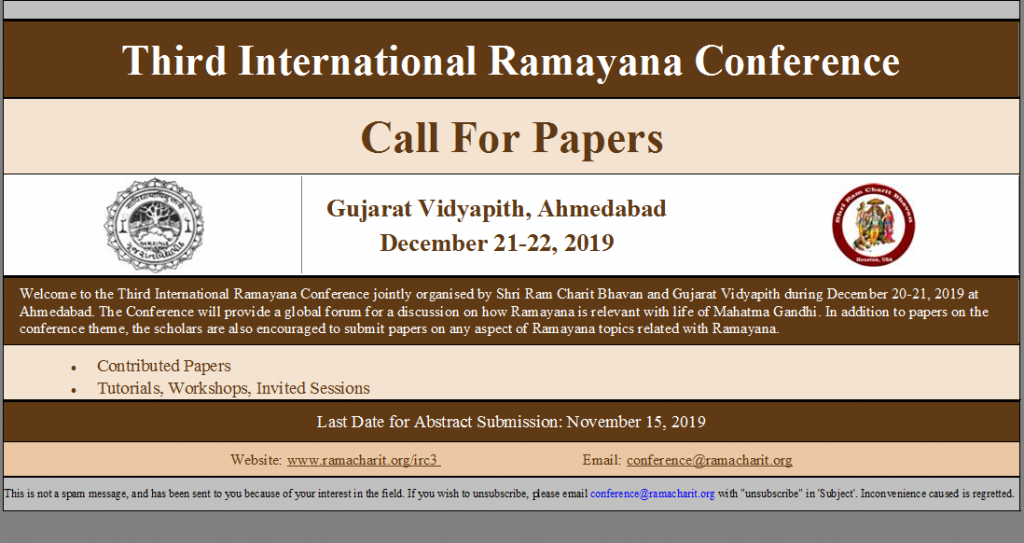 After two successful international conferences on Ramayana, I am pleased to inform you that with Lord Ram's infinite mercy, there will be the third one on 21-22 December 2019 at Gujarat Vidyapith, Ahmedabad. I take this opportunity to invite you to participate in the same.
If you would like to present a paper, we request you to send a brief abstract of your paper (in about 100 words or less) to conference@ramacharit.org as soon as possible but certainly by 15th November. For details on the abstract submission, please visit http://www.ramacharit.org/irc3/abstract.asp. The conference website www.ramacharit.org/irc3 has complete information on the conference. The links for previous conferences are http://www.ramacharit.org/conference/ and www.ramacharit.org/irc2.
The papers can be presented in Hindi, Gujarati or English.
If you wish to attend the conference, please register for the same. The registration link is http://www.ramacharit.org/irc3/registration.asp.
Source: World Hindu News