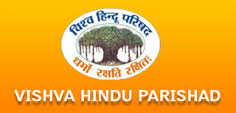 Varanasi: Buoyed by successful conduct of its Sant Sammelan in Allahabad, the Vishwa Hindu Parishad will now hold a Dharm Sabha-cum-Hindu convention in Prime Minister Narendra Modi's constituency Kashi on February 8.

The VHP also plans to bring Hindu Yuva Vahini founder and BJP MP Yogi Adityanath on the dais during the conclave to prove that saffron forces are not divided on core Hindutva issues and regain its foothold in the region.

VHP's Kashi Prant organizing secretary Manoj Srivastava said, "The Dharm Sabha at Varanasi on February 8, will be a grand show. Apart from parishad's organizing secretary Vinayak Rao Deshpandey, Shankaracharyas, including Swami Vasudevanand and Swami Narendranand Saraswati, and Yogi Adityanath will address the cadre."
VHP leaders will also try to galvanise saffron forces in the region through this show and compensate for their failure in holding similar 'dharm sabhas' and 'ghar wapsi' shows in east UP districts, including Ghazipur, in December. The SP government had taken tough steps to scuttle the December drive through which the saffron brigade leaders had planned to re-convert 10,000 people in east UP alone, said local political observers.

Although the VHP is banking on ghar wapsi in the region, its leaders, including Srivastava as well as Varanasi unit in-charge Sudarshanji, this time are not vocal on the issue. "The demand of a stringent anti-conversion law will be raised effectively during the proposed Dharm Sabha in Kashi with an expectation that SP and BSP should also come forward to support it," he said while declining to make a direct comment on 'ghar wapsi' plan.

"The programme of ghar wapsi by VHP has continued since 1964, but it is difficult to understand why people today are taking it as a surprise," said Srivastava making it clear that 'ghar wapsi' had never been a part of 'dharm sabhas'.

The VHP had made the headlines for a few years after Babri demolition in 1992. But, despite keeping Kashi on its agenda along with Ayodhya and Mathura, it could not hold any show to impress its target group in this region in the past decade. Now, when Kashi has become the constituency of PM, the VHP is trying to regain its lost foothold in the region, observers said.

Srivastava added that the VHP had originally planned to hold dharm sabhas at 600 places across the country to highlight its work and agenda in its golden anniversary year.