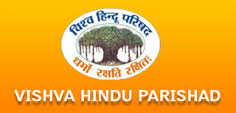 Women wing of Vishav Hindu Parishad (VHP), Durga Vahini on Saturday threatened to release data of 'missing' girls from three districts of Sirmaur, Bilaspur and Chamba to substantiate charge about instances of 'Love Jihad'. It also raised questions on the Congress government's failure to effectively deal with the issue.
Women volunteers claimed that cases, which stand already reported and FIRs lodged at different police stations, were just tip of the iceberg in the state, which Muslim boys were marrying local girls without revealing their true identities.
"These are cases where the parents contacted us and we took them to police stations to lodge reports. Of total 16, whereabouts of only two girls have been found so far. There is no clue about the status and fate of other girls. Number of such cases could go up once Durga Vahini volunteers reach out to more areas like Kullu, Rohru in Shimla and other districts", said Rajni Thukar, regional coordinator of the organisation.
Chief Minister Virbhadra Singh had denied any such happening in the state. " If something is reported, the police will act on it," he said at Dharamshala on Friday.
On this, Rajni says the organisation will be holding a workshop in Shimla on January 12 as part its massive, Jan Jagran programme and will release data on the missing girls –who got married to such boys and then went missing . Their parents are clueless and, in fact, they were still on willing to come openly fearing social stigma.
In next few months, over 1,200 volunteers of Durga Vahini will travel to more than 3,000 villages of Himachal Pradesh to educate girls and their families not to fall in trap of boys who lure them posing as Hindus to get married and then force conversions.
Asked about their strategy, she said several districts and valleys in Himachal Pradesh has a tradition –where the girls are allowed to pick-up their paramours during fairs and festivals. One which custom — "Ganga Vivah" is still prevalent in parts of Kullu and Seraj valley.
"We will try to create an awareness among young girls that men of their choice may not necessarily be from their religion. There could be Muslim boys trying to elope with them and get married fraudulently," Rajni says.
Even as Director General of Police Sanjay Kumar had denied such a thing happening in Himachal Pradesh.
Deputy Commissioner Kullu Rakesh Kanwar when contacted said, "I have read the reports about Durga Vahini claim about girls missing after marrying outsiders .Today, we discussed the issue with senior district police officials and asked for details if they can provide. If the VHP or Durga Vahini brings some facts to light, the concerned officials will certainly act".
But on Saturday, Rajni also tried to link " love Jihad' issue with infiltration of Bangladeshis in Himachal Pradesh and referred to pro-Pakistan slogans which appeared at Ner Chowk in Mandi district.
She claimed illegal Bangladeshis are staying in different towns and in shelters outside towns .They are engaged are construction labourers. But, the administration has no data about their stay and antecedents . On "Himalaya Dhwani" –Durga Vahini's magazine publishing morphed photo actor Kareena Kapoor, she defended the move and asserted " I don't have any problem with Kareena on marrying Saif Ali Khan but being a star –whose actions are replicated by young girls, could get mislead and can land into troubles on marrying Muslims".