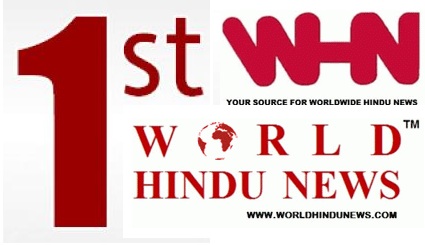 Houston, Texas (November 14, 2014): World Hindu News Marks First Anniversary
World Hindu News, online English daily newspaper reporting, publishing and disseminating Hindu news on a worldwide scale today marked one year of successful operations. The program board congratulated and thanked staff, employees and subscribers / readers on this first anniversary in serving global Hindu society requirement.
World Hindu News – an online English daily published leveraging cloud based publishing tools partly from North American and Asia Pacific region has published more than 6000 news items in past one year , releasing more than 40 newsletters to its 100K subscribers comprising based out of USA, Canada, Europe, West Asia, Africa and India. In past one year the news agency developed news media relationships with more than 150 Hindu organizations worldwide comprising of social, cultural, Political and Dharmic Hindu organizations.
The paid subscription of World Hindu News has doubled since past two quarters and has more Hindu organizations advertising, supporting and partnering with World Hindu News for their media requirements.  World Hindu News board thanked their vendor IT Management firm Hindu World IT and IT staff for excellence in providing IT infrastructure services which is able to sustain and operate an average of 500,000 user hits monthly increment without any website downtime (Records 3 million user hits in Sep, 2014).
With dedicated paid staff, experienced IT Vendor, professional e-mail marketing firms, CRM / ERP Software's for operations and supply chain, Android / I Phone Apps and social networks, World Hindu News has emerged as world leading professional Hindu news agency serving Hindus in seven continents. The program was envisioned by World Hindu Foundation (WHF), realized under Global Hindu Foundation (GHF) and is being operated and managed by World Hindu News Company.
The editorial board of World Hindu News comprising of eminent Hindu intellectuals successfully researched, analyzed and implemented editorial policy which is in sync with foundation baseline of 'For Hindus By Hindus Of Hindus'. The advisory board of World Hindu News consisting of distinguished global intellectual leadership – Swami Vigyanananda ji and Rajiv Varma guided the program directors and board at strategic levels from time to time. With more paid subscriptions enrollments and Hindu organizations advertisements, World Hindu News is expanding its scope and reach worldwide. World Hindu News in past year has presented program highlights at WAVES 2014 Conference (Fairfield, Iowa, US), HMEC 2014 (Orlando, FL, US) and is set to present at World Hindu Congress 2014 (New Delhi, India).
World Hindu News thanks all its subscribers, readers, sponsors, supporting Hindu organizations and well-wishers for this success and looks forward to serve Hindu media news requirement in upcoming years with enhanced global scope and reach.
Board of World Hindu News
World Hindu News Company
5773 WOODWAY DRIVE STE 86
HOUSTON, TX 77057 USA
PHONE: +1 (707) 706-6643    E-MAIL: info@worldhindunews.com