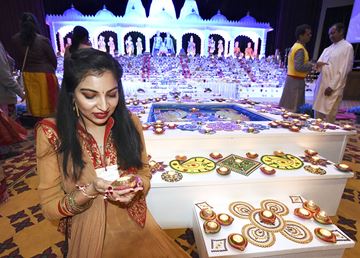 Diwali and New Year Celebrations
Dan Pearce/Metroland
Priva Patel at the Diwali, Festival of Lights, event at the BAPS Shri Swaminararyan Mandir Monday. More then 16,000 people were expected through its doors offering vegetarian dishes that are artistically and elegantly arranged in front of God as an offering of thanksgiving. Oct. 31, 2016.
Lit candles and prayers marked the Hindu New Year's spiritual enlightenment Monday, Oct. 31 at the BAPS Shri Swaminarayan Mandir.
Decorative oil lamps and 'rangoli' – intricate, colourful designs using coloured sand on the ground, also used on walkways in front of homes – welcomed approximately 17,000 people to celebrate Diwali.
Diwali is the most widely celebrated Indian festival, according to BAPS officials.
"Diwali is called the Festival of Lights, symbolizing the victory of good over evil. It is a time to renew friendship, unity and harmony in the family and community," explained a BAPS media release.
The colours, lights, sounds and tastes of the festival included 'Annakut', where hundreds of vegetarian dishes are artistically arranged in front of God as a thanksgiving offering.
The festivities brought devotees together to celebrate, to develop spiritually, and to gain the blessings of guru His Holiness Mahant Swami Maharaj and His Holiness Pramukh Swami Maharaj.
Immigration minister John McCallum attended, as did Deputy Mayor Vince Crisanti and Etobicoke North MP and Science Minister Kirsty Duncan.
BAPS is a worldwide religious and civic organization within the Swaminarayan branch of Hinduism.
Next year will mark the 10th anniversary of the BAPS Shri Swaminarayan Mandir which is located at 61 Claireville Dr. in North Etobicoke.