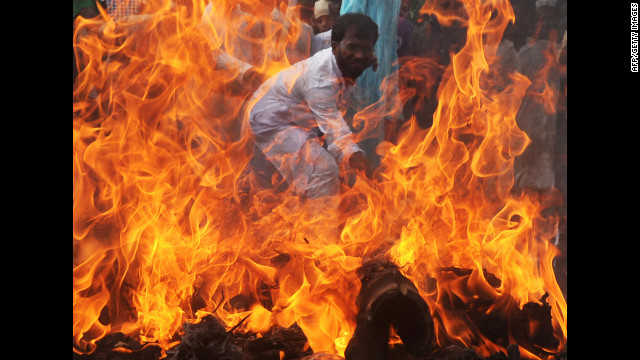 Yeotmal (Maharashtra) : Fanatic Jihadis ran riot in Yeotmal, Arni and Nera regions on 25th December claiming of their religious sentiments getting hurt due to some objectionable picture and matter posted on Facebook. They deliberately targeted Hindus' shops pelting stones on large scale.  They even desecrated Hanuman Mandir on 26th December, evening and 27th December morning, by throwing animal bones and flesh.
A case has been filed against unknown fanatic Jihadis for desecrating the temple. 'Bandh' was observed to protest against the incident. Presently, there is stressed quietness in Yeotmal region and anti-riots squads have been deployed.
News about Prophet Mohammad's insult on 'Facebook' was spread on 25th December. Jihadis claiming that the youth responsible for such insult was from Arni, resorted to heavy stone-pelting for creating terror.
After some time, Jihadis claimed that the youth was not from Arni; but was from Nera and started pelting stones even there with raising slogans and creating chaos.
It has been observed that the youth was neither from Arni nor from Nera or Yeotmal. Yeotmal police (Cyber Crime Branch) are investigating the matter and feel that a false account could have been created for doing such thing.