Aatmeeya Bhagini & Bandhu,
Namaste!
Alternate Media Development is a project of Global Hindu Foundation (GHF). Below is more information on this program. Via this support letter the program aims to aware and involve you in supporting Hindu-sensitive alternate media development.
 BACKGROUND
The "mainstream" media exhibits, quite often subtle bias against Hindus and Hinduism, which at times becomes quite blatant and insulting. The caricatures of "holy cow", "beggars" and "snake charmers" are too well known, and Sita's agni pariksha is often cited by journalists as "oppression against women" in their reporting.
In the past, there have been several efforts to address this problem. These efforts included writing rejoinders, complaining and educating, but no tangible output was obtained through such efforts. At one point the ownership of the media was also questioned. But the facts tell a different story – most media (in India) is owned and operated by Hindus, yet Indian media is the source of bias against Hindus and Hinduism. Taking a cue from this erroneous point – several new media houses were established by Hindus, that later turned into anti-Hindu mouthpiece, Therefore, a new approach is needed to take a fresh look in this matter.
DETERMINANTS
The bias against Hindus and Hinduism in the media is often reflective of the larger ideological canvas on which journalists and other media professionals have to operate. This is a larger issue that the Hindu community has to deal with. What is indeed a relevant derivative determinant to media bias is the fundamentals of training that media professionals receive during their training tenure at an academic institution. For instance, when media professionals are trained on how to cover women's issues, they are forced to use the experience of West in their coverage. This works for reporting in the West, but when used with Hindus and Hinduism, it falls flat on the face. When a Hindu concept of "agni pariksha" becomes the subject of quoting for media reporting, neither the media institutions are adequately equipped to handle the subject, nor the student journalists have the background to see the issues in proper perspective. The end result comes out as Hinduism being a "religion that engages in oppression of women."
THE PROGRAM
To address the issue of the media bias against Hindus and Hinduism, an integrated program of alternate media development has been instituted. The Alternate Media Development is a dual-tier program, where the two constituent tiers aggregate into a combination of training of personnel and media development, both tiers feeding into each other.
Tier 1 (training layer) – qualified training in media personnel development. A major portion of the effort is towards providing the tools to chosen media professionals to become qualified with nuances and complexities of reporting on Hindus and Hinduism. The training layer consists of a series of teaching aids and seminars, where specific cultural and civilizational inputs are provided.
Tier 2 (practice layer) – establishment of small media outlets for personnel training. Media professionals are interned at specially developed media outlets where the train

ed media professionals can intern and establish a proper practice of Hindu reporting. The media professionals get a platform which they use to advance their careers, and also learn how to accurately report issues pertaining to Hindus and Hinduism.
---
Your donation will empower Global Hindu Foundation Inc. Alternate Media Development Program, which will boost Global Hindu News ,Global Hindu News provides syndicated RSS feeds to World Hindu News & allied newspapers.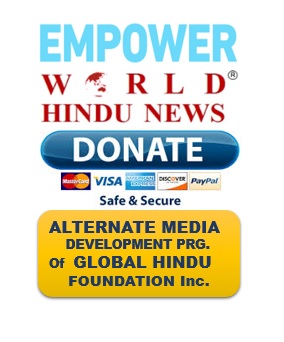 ---
धर्मो रक्षति रक्षित:       Dharmo Rakshati Rakshitah       Dharma protects those who protect it. 
---
WORLDHINDUNEWS.COM is a service managed by WORLD HINDU NEWS LLC.