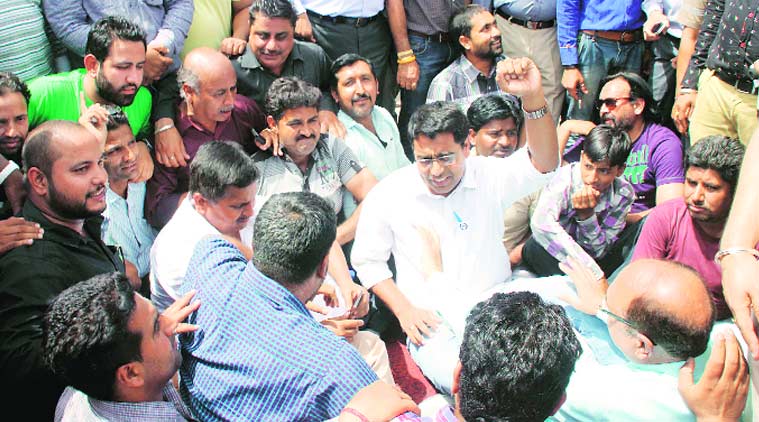 During the protest in Ludhiana on Saturday. (Source: Express photo by Gurmeet Singh)
High drama was witnessed Saturday when the Ludhiana Municipal Corporation pulled down hoardings of a religious function while those with political faces were left untouched.
The Parshu Ram Sewa Society staged a protest against the MC's "selective" action at Jagraon bridge and alleged that the removal of the posters of Parshu Ram Jayanti to be celebrated on April 20 was "intentional".
However, an apology from MC assistant commissioner Satwant Singh followed soon after.
In fact, Satwant Singh, along with superintendent Rohit Sahota, who was responsible for the removal of the posters, even visited the Parshu Ram Temple on Bahadur Ke Road  to pay obeisance.
Speaking to Ludhiana Newsline, Varun Mehta president,  Hindu Morcha, Punjab, said, "For the last three days, posters of Parshu Ram Jayanti were being removed while those with photographs of political leaders remained intact. We assumed that some anti-social elements were doing it but on Saturday we saw MC superintendent Rohit Sahota tearing down the posters."
He added that the "MC has promised that posters will restored and the protest was lifted after an apology from MC assistant commissioner and the superintendent.
Meanwhile, Satwant Singh told Newsline that "a proper inquiry will be held in the matter".
"The superintendent in question would have to furnish an answer about his selective approach. Generally, we do not remove hoardings of immediate events and this was scheduled for April 20," he said.
Satwant Singh, on being asked about his visit to the temple, said, "People were very angry with the superintendent and to pacify them I visited the temple along with Sahota. They wanted an apology from us and it was just a courteous gesture."