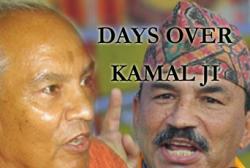 "We are democrats. In a democratic setup peoples' mandate is final. As far as the country's religious identity is concerned we are of the view that people should be allowed to make their own choices," says Nepali Congress Leader Khum Bahadur Khadka.
"If all the parties have already accepted the secular order and the public is also in favor of secularism then what is the fear to get it endorsed through a referendum," asks Khadka.
Logic is there.
"Let the people decide and get it endorsed…in this way it will be sustainable," he adds.
"The Nepali Congress may have accepted the secular order but it is yet to be endorsed by the central committee," he adds and continues, "No discussion as such has ever been taken place in the central committee as far as secularism issue is concerned."
"The party has to get the secular order passed by through its general convention, which is yet to be done. To save our identity and to save the country from disintegration reviving the Hindu identity has become a must," he continues.
"Only Hindus can save this country," Khadka stresses.
Khadka made these remarks in an exclusive interaction with veteran journalist Rishi Dhamala of Reporters Club.