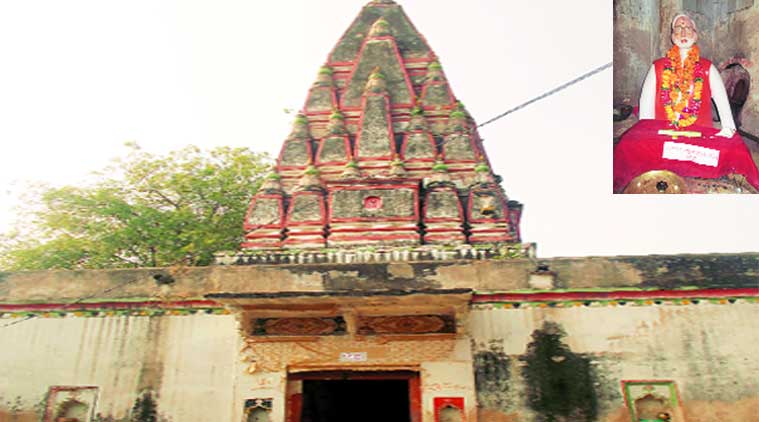 A3-ft tall idol of Prime Minister Narendra Modi, installed inside a 300-year-old Shiva temple at Bhagwanpur village of Kaushambi district is attracting crowds.
The idol, depicting Modi in a sitting position, has been installed besides the Shivalinga by a Vishwa Hindu Parishad (VHP) leader, Brijendra Narain Mishra, who is also the priest of the temple.
The temple, which had till recently been known as Shiv Mandir, is now called as "Namo-Namo Mandir". Any doubts over the nomenclature is removed by a small board displaying the new name near the temple entrance.
The priest had placed the idol in the temple in January this year, ahead of the Lok Sabha polls, with an aim to pray to Lord Shiva to make Modi the prime minister by giving BJP a clear majority.
The locals had then dubbed it "height of sycophancy" and the number of visitors to the temple had dropped. But, after BJP got majority and Modi became the PM, villagers have again started visiting the temple to offer prayers — with the belief that Lord Shiva will grant their wishes too.
Villagers now recite bhajans written by Mishra eulogising Modi even as regular prayers along with aarti is offered to both Lord Shiva and the PM everyday in morning and the evening. The 200-word aarti begins with "Jai Modi Raja, tere naam ka desh me danka baaja (Hail Modi who lords over the country)".
"During the election period, I performed havan in the temple everyday and prayed to Lord Shiva on behalf of Modiji to make him PM. Now, as our prayer has been fulfilled, we want Modiji to come and perform the ritual of 'poorna aahuti'," priest Brijendra Narain Mishra said.
The Plaster of Paris idol hardly bears any resemblance to the PM. For the benefit of the uninitiated, Mishra has placed a sign in Hindi on the idol's lap. It reads: Pradhan Mantri Narendra Modiji.
The temple is located on the premises of Mishra's house and was reportedly built by his ancestors, hence locals could not raise an objection when he placed Modi's idol there.
Bhagwanpur village has a mixed population of nearly 500 families and it falls in Chail Assembly segment area of Kaushambi Lok Sabha constituency from where BJP's Vinod Kumar Sonkar was elected MP.