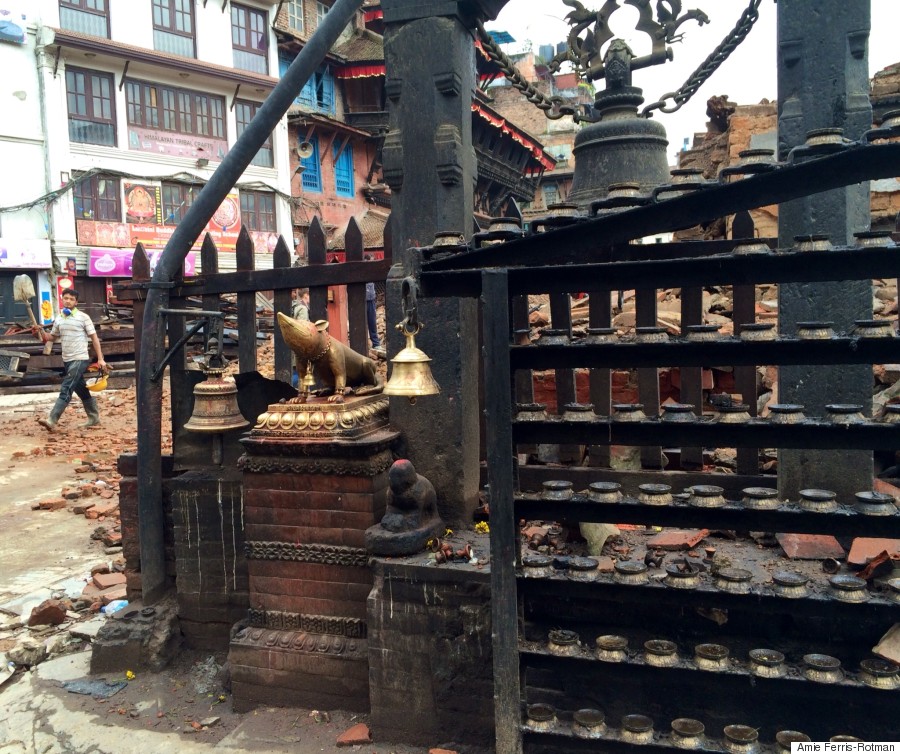 Remains of a temple in the Durbar Square complex, where the public can enter relatively freely, on Tuesday.
Photo Courtesy – Huffingtonpost
KATHMANDU, NEPAL, April 30,2015 (Huffington Post): Bells that once chimed for Nepali royals and centuries-old wooden figurines are among the mounds of treasure dotted around a city slowly trying to recover from the largest earthquake to hit Nepal in 80 years. With fears of looting and further destruction rife, scores of Nepali volunteers have come forward in recent days, emotionally motivated to guard what is left of their collective heritage. The April 25 earthquake destroyed four of the Kathmandu Valley's seven UNESCO World Heritage sites. Located in the foothills of the Himalayas, the monuments span from the 12th to the 18th centuries and embody the city's unique historical ability to blend religions, according to UNESCO.
Over 100 volunteers, almost all men, are currently guarding partially destroyed historic sites across the Kathmandu Valley, said Nebin Shrestha, 47, their de facto organizer.The enormous Durbar Square complex is largely open to the public, and teems with both Nepali and foreign search and rescue teams combing the scree for survivors. Gorgeous pieces of past splendor are omnipresent: an arm of a Hindu God here, a wooden Ganesh there. They could no doubt fetch large sums on the well-documented antiquities black market. The volunteers work entirely for free. According to the director general of the government-run archaeology department, Bhesh Narayan Dahal, the risk of looting is minimal. Instead, his team is focused on cataloging efforts so they can begin rebuilding. "Some parts are gone forever, but in five, six years' time, most will be restored." Volunteers balked at this estimate, saying it would take at least a decade, if it happens at all, and would be dependent on funding. UNESCO has said it is sending a team to assess the damage, but described some of it as "irreversible."