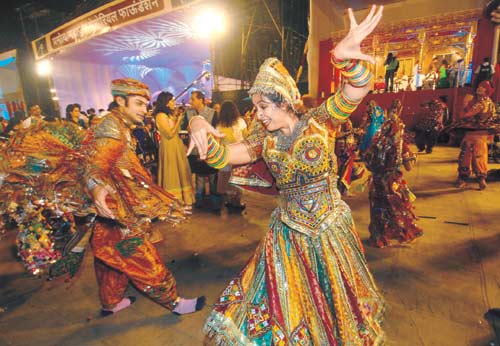 Every festive season, cultural events take the city by storm. Now, to ensure that the buzz and excitement spreads on social media as well, mandals across the city are providing Wi-Fi connections in their venues this year.
 
This new trend can be attributed to the fact that young visitors to the mandals are fond of clicking 'selfies' against a festive backdrop, and Wi-Fi connections allow them to promptly upload the photos on to social networking sites. This, in turn, translates into publicity for the mandals, say organisers. Despite the costs involved in installing these connections – which range from Rs1 lakh to Rs2 lakh – the organisers are convinced about the reach of this modern-day marketing tactic.
 
While the recently concluded 10-day Ganeshotsav saw several decorative pandals equipped with high-speed Internet for the first time, even sprawling garba grounds are now offering the facility. "Mandals these days have a website, social media pages and mobile apps, but these are not enough. There is tremendous marketing opportunity in people 'liking' and 'sharing' photos or status updates about us on social media. That happens when visitors upload photos such as selfies on sites, or share them on messaging groups. Free Wi-Fi comes in handy then," said Ganesh Naidu, president of Naidu Club, which is celebrating the nine-day Navratri festival at Kora Kendra, Borivli (West).
 
The facility also enables the social media managers of mandals to frequently update the sites and pages, which are viewed by lakhs of people, especially NRIs, said Naidu.
 
Jitendra Mehta, president of Ghatkopar Gujarati Samaj, which is celebrating the event at Police Chowky Ground, said that a strong social media presence draws crowds. "We want visitors to instantly connect with their friend circles and inform them about the goings-on at the venue," he said, adding that 'selfies' with celebrities also spike the curiosity of viewers.  
 
There are other advantages too, say organisers. "With the crowds soaring, the waiting time for darshan has increased. Wi-Fi facility keeps them busy and glued to their phones, when they are standing in serpentine queues," said Uday Salian, spokesperson for Azad Nagar Sarvajanik Utsav Samiti, which too offered the facility for the first time during the Ganesh festival this year.