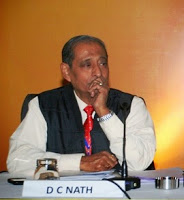 President of Patriots Forum, D.C. Nath was superannuated in January, 1995, as the Special Director, Intelligence Bureau, D.C. Nath (IPS-1960) was associated with the International Institute of Security and Safety Management (IISSM), headquartered in New Delhi, for over 14 years, first as the Executive President & CEO and then as the President & Director General, between February, 1997 and March, 2011. The author of a highly acclaimed book, Intelligence Imperatives for India, Mr. Nath earned high plaudits from all around for two of his very significant presentations on: "Revisiting the Future of India" (2005, London) and "Lessons from India for the War On Terrorism" (2007, USA). He is the only one in the field, combining the experiences of a police officer with specialization in intelligence and strategic analysis and an industrial security expert par excellence. More Bio on D. C. Nath…
Reference Attachments:
OPINION>>>>
October 31, 2015 Dear Respected Subhash Kashyap Sir,
Subject: An Open Letter To Indian MPs "Lead The Way" By Subhash C. Kashyap
We have the privilege of going through your what we have called "An Open Letter" to the Indian MPs, very closely.
We feel extremely happy, and are, in effect, rejoicing on this, because it so happens we had on September 26 this year sent out a circulatory mail on the same subject, under the caption "Loot Of The Nation By Indian MPs" and followed that up by another mail on the subject, "MP's Salary Fixation" on October 9, addressed to Shri Chandrasekharji, with copy to both the former addressees. Copies of these two mails were marked the office of the Prime Minister.
The first mail was jointly addressed to the honourable Speaker, Lok Sabha and the honourable Chairman, Rajya Sabha. After giving them the facts received from a friend, we humbly submitted to them to surrender the uncalled for privileges, setting example for junior/newer breed of MPs to emulate. In the second mail, we also requested them to bring our submission to the honourable Prime Minister also to join them. We had also urged them to pass on our suggestions to the members of the independent Committee, whose names were not disclosed, set up for the pay fixation of the MPs, for appropriate consideration.
Sir, you have now hit the nail hard in your facts-and-examples-filled write-up, referred to by us. Sir, it may not be irrelevant to cite, in this context, what we had seen on the internet quite some years back in 2004. That was titled, "Can Any One imagine Working For The Following Company?":
Quote (.)
It has a little over 500 employees with the following statics:
29 have been accused of spouse abuse.
7 have been arrested for fraud.
19 have more than tree criminal cases pending against them.
117 have been charged and are being investigated for murder, rape, assault, extortion and robbery.
71 cannot get credit or loans due to bad credit histories.
21 are current defendants on various lawsuits.
84 have been involved in offenses and have paid fines.
Can you guess what mighty organisation this is?
It is the 545 members of the Lower House of parliament of India that works for you and me. The same group cranks out hundreds upon hundred of laws designed to keep the rest of us in line…
Unquote (.)
(Source: THE INTELLIGENCE IMPERATIVES FOR INDIA" by D C Nath, page 117-118)
All this notwithstanding, the fact remains that we still have some honest and hard working MPs, but for whom the system would have collapsed.
Sir, since we intend sharing the contents of your write-up to our esteemed readers, we are attaching a copy of it with this mail. We are highlighting below some of the thrust-points of it as below:
· An Emoluments Commission for members of Parliament is under consideration. Our lawmakers, both at the Union and state levels, are the only group of people who determine their own salaries, allowances and other perks while being paid from the public exchequer. As such, they are judges in their own case. This clearly violates the basic dictum that any outgo from the public funds must be with the approval of an authority other than the one likely to be the beneficiary. The idea of setting up an autonomous salaries commission for MPs was, in principle, accepted by the government during the 14th Lok Sabha, but nothing came of it.
· At present, every MP is entitled to a basic salary of Rs 50,000 per month, as well as Constituency and Office Allowances of Rs 90,000 per month. For days of parliamentary sittings, MPs receive a further Rs 2,000 as a daily allowance. In addition, every member is entitled to many other perks, cash immunities and subsidies. The variety of payments and perks are difficult to document in terms of what these actually cost. Also, former MPs receive pension for life, without any requirement of a minimum period of service, which, in effect, means that if one has been a member even for a day, she will be entitled to pension for life.
· The late Nanaji Deshmukh, a distinguished member, wrote "with a feeling of deep anguish and sorrow but out of a sense of responsibility" that while fellow countrymen were toiling under extreme poverty and unemployment, our "so-called representatives" were "getting richer and richer" and "shamelessly piling up more burden on the country by increasing their own perquisites". This brought our democracy "to disrepute and shame". Based on Nanaji's estimates, the present monthly cost of an MP must work out close to some Rs 10 lakh per month or more, which would be much higher than the per capita income of an average Indian. Any increase in the emoluments of MPs immediately impacts the states, and if the expenditure incurred on the state legislators is also taken into account, the cost of Indian legislators would be colossal.
· There may be differences on whether members are underpaid or overpaid but it is a legitimate public expectation that membership of Parliament should not be converted into an office of lucrative gain. It must remain an office of service. Also, if payments are really low, why the terrible scramble for tickets and their alleged sale and purchase for crores of rupees?
· In a democratic polity, nothing can be sadder than public representatives losing the respect of the people by frequently seeking to increase their emoluments and perks. Something has to be done to restore public faith in the MPs' worth to society at large. Every politician has to ask herself and honestly answer the question: Why is she in politics? With the new government claiming to be wedded to principles of good, clean, corruption-free, citizen-friendly governance, the timing is ideal to make sacrifices and make a new start in public life. One way of tackling the menace of corruption would be to make political offices and memberships of legislatures less lucrative.
· It is to be hoped that the proposed emoluments commission will not be merely a ruse for justifying further increases in emoluments in cash and kind. If the report of a similar body for Delhi MLAs is any guide, there is genuine cause for apprehension. Voluntary cuts in salaries, allowances, travels, seen and unseen perks and subsidies need to be announced. It is all very well to ask ordinary citizens to sacrifice for the poor by surrendering gas subsidies, but a beginning ought to be made by the people's representatives by surrendering many of the extraordinary perks and subsidies enjoyed by them. Sacrifice must begin, and must be seen to begin, at the top, with our honourable MPs. Their leadership is bound to impact legislators at the state level. Moreover, this will win tremendous goodwill and acclaim from the people. As the first step, a national debate is in order.
Sir, kindly correct us if we have gone wrong any where in this mail.
Thanking you and with our respectful pronams,
Yours sincerely.
D.C. Nath
(Former Spl. Director, IB)
(President, Patriots' Forum)
Copy forwarded for favour of action, as thought appropriate:
· The Speaker, Lok Sabha,
(Smt. Sumitra Mahajan)
· The Chairman, Rajya Sabha,
(Shri Mohammad Hamid Ansari)
· The Prime Minister Office
(Attention: Shri P.K. Mishra)
· Cabinet Secretary
(Shri Pradeep Kumar Sinha)
· The Union Home Minister,
(Shri Rajnath Singh)
· The Union Home Secretary
(Shri Rajiv Mehrishi)
Yours sincerely,
D.C. Nath
(Former Spl. Director, IB)
(President, Patriots' Forum)
Source: Patriot Forum
Disclaimer: The opinions expressed within this article /news /published content are the personal opinions of the submitting author / organization. World Hindu News  is not responsible for the accuracy, completeness, suitability, or validity of any information on this article /news/published content. All information  received is provided on an as-is basis. The information, facts or opinions appearing in the article / news /published content do not reflect the views of World Hindu News and World Hindu News does not assume any responsibility or liability for the same.