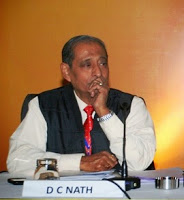 President of Patriots Forum, D.C. Nath was superannuated in January, 1995, as the Special Director, Intelligence Bureau, D.C. Nath (IPS-1960) was associated with the International Institute of Security and Safety Management (IISSM), headquartered in New Delhi, for over 14 years, first as the Executive President & CEO and then as the President & Director General, between February, 1997 and March, 2011. The author of a highly acclaimed book, Intelligence Imperatives for India, Mr. Nath earned high plaudits from all around for two of his very significant presentations on: "Revisiting the Future of India" (2005, London) and "Lessons from India for the War On Terrorism" (2007, USA). He is the only one in the field, combining the experiences of a police officer with specialization in intelligence and strategic analysis and an industrial security expert par excellence. More Bio on D. C. Nath…
News Research & Analysis Files-
A unique festival << News analysis file 1
OPINION>>>>
January 30, 2015
Dear Friends,
Subject: Know India-Story Of
'Hope you will not mind our imposing on you an account of Basant Panchami (January 24-25). Though many amongst you would be familiar with the nuances of this festival, we felt we could share the piece appearing in "The Sunday Statesman" of January 25, 2015.
Although it is a 'puja', let us not treat this festival as a religious occasion only. As the attached piece in "The Sunday Statesman" will show. The piece starts off:
"Among the festivals which promote national integration Basant occupies a pride of place. The Urdu poet Nazir Akbarabadi's immortal poem on Basant is memorable. When Mark Twain said that while there are 365 days in a year, India had 366 festivals, he hardly realised that a festival in India is not a mere event of rejoicing and gaiety but an occasion for soul-searching, a day of renewal, a time not only to express but also expand. An Indian festival imparts depth and efficiency to human life. It is time when even labour yields the fruits of laisure. Vasant Panchmi, popularly called Basant is one such festival."
The author then so rightly says:
"For Tagore, Basant was more than a festival, it was faith. He included it in the calendar of celebrations of Vishwa Bharati which he founded. It is celebrated till today with all its dignity and poise and colour. Known as 'Rituraj' Tagore's poetry is full of intimate references to Basant symbolising the flavour of change."
Tracing the historical part of the festival, the author says, "The association of Saraswati with Vasant Panchmi dates back to the time when it is believed that Goddess came sailing down a river playing the Veena through the hills and the mountains and halted at a place later called Kurukhetra for warmth and sunshine. Since then the place is sanctified with yellow light. The beauty of this light was that instead of coming from above it eminated from below. Thus devotees built a temple to venerate the presence of the Goddess there. A five-day fair used to be held there, the last day being Vasant Panchmi." .
On national integration, the author adds, "The Muslim participation in Basant utsav is traceable to the days of Amir Khusaro who sang Raag Basant on that day to bring cheer to Hazarat Nizamuddin Auliya during his bereavement caused by the death of his beloved nephew. Nazir Akbarabadi, the Urdu poet of Agra celebrated the festival on a boat in the river Jamuna smoking hookah painted yellow for the day, singing qawwalis with Agra folks."
According to Alberuni, "women, and children thronged this place wearing saffron clothes, offered prayers, distributed alms, fed the birds. On this day women expected presents from their husbands and children from their mothers."
Interestingly, "To the freedom fighters of India, Basant gave them the famous Basanti Chola wearing which they sang the song of 'Sarfaroshi' and pledged to free their Motherland from the foreign yoke. For Urdu poets Basant brings a message of goodwill, of fresh woods and pastures new. Nazir Akbarabadi (1739-1830) broke all conventions and popularised Hindu-Muslim participation in festivals like Holi, Basant and Divali."
Friends, we hope you did not feel bored and will like to join us joining felicitating the author Shri K K Khullar for giving us such a beautiful piece on a subject many of us do or do not know much about.
Vandemataram,
Your sevak,
D.C. Nath
(Former Spl. Director, IB)
(President, Patriots' Forum)
Source: Patriot Forum
Disclaimer: The opinions expressed within this article /news /published content are the personal opinions of the submitting author / organization. World Hindu News  is not responsible for the accuracy, completeness, suitability, or validity of any information on this article /news/published content. All information  received is provided on an as-is basis. The information, facts or opinions appearing in the article / news /published content do not reflect the views of World Hindu News and World Hindu News does not assume any responsibility or liability for the same.