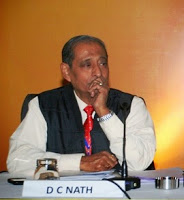 President of Patriots Forum, D.C. Nath was superannuated in January, 1995, as the Special Director, Intelligence Bureau, D.C. Nath (IPS-1960) was associated with the International Institute of Security and Safety Management (IISSM), headquartered in New Delhi, for over 14 years, first as the Executive President & CEO and then as the President & Director General, between February, 1997 and March, 2011. The author of a highly acclaimed book, Intelligence Imperatives for India, Mr. Nath earned high plaudits from all around for two of his very significant presentations on: "Revisiting the Future of India" (2005, London) and "Lessons from India for the War On Terrorism" (2007, USA). He is the only one in the field, combining the experiences of a police officer with specialization in intelligence and strategic analysis and an industrial security expert par excellence. More Bio on D. C. Nath…
News Research & Analysis Files-
How Much More Will The Muslim Community Be Pampered
Minorities Discriminated In India
NATIONWIDE MEETS TO HEAR OUT MUSLIMS
The Scheme for Leadership Development of Minority Women
Muslim Law Board Rally Against Rising Hindutva Forces
OPINION>>>>
August 26, 2015
To
The Minister For Minority Affairs,
(Smt. Najma Heptulla),
Government Of India,
New Delhi.
Mananiya Najma Heptullaji,
Subject: Minority Care—How Much More?
This refers to your Ministry's Notification No 8-08/2015, copy attached for ready reference on:
"Nai Roshni"
"The Scheme for Leadership Development Of Minority Women".
Madam, let us first submit that the issue may seem rather small and, it is possible we may have missed out on such other "small" issue; but, we are concerned with the policy behind.
We have first a few questions to submit:
· What exactly is the need for this declared programme? Has there been any official survey for ascertaining the need for this training?
· The contents of the notification show this programme has been continuing for some years. Is this a part of the recommendations of the "illegal" Sachar Committee's report?
· Does this scheme apply to the women of minority communities like Sikhs, Jains, Parsis and Christians?
· If so, has it been ascertained whether they are in need of it?
· If not, is this notification meant only for Muslim women? Why not then declare that in the notification that this programme is for Muslim women only?
· Granting that some sections of the majority community, even if equally deserving of this leadership development programme, would not by definition qualify for this assistance, what about those certainly in minority group, namely, the poor or even more poor than those among your identified Muslims, the tribal minority? Will they also remain out of bounds for your programme?
· Incidentally, you would be aware that even by the figures of the outdated 2001 Census Report of the GOI (some details of the long-pending religious break-up of the Indian population, indicating anticipated substative rise in Muslim population (meaning by implication more self-confidence on their part of the Census Report of 2011 have since been declared) the Muslims in India are better off than their Hindu counterparts in four out of the five universally accepted human development indices, including urbaniasation–, certainly a positive sign of advancement. The Muslim women were also better off in terms of education in a number of States. For the sake of ready reference, we attach here with a copy of a leaflet, titled, "THINK INDIA", brought out by the think tank that goes by the name of the "PATRIOTS' FORUM" on the basis of the 2001 Census Report.
Dear Madam, we take this opportunity to send you a copy of a report, "Minorities Discriminated In India? No, Not at All AND BY No Means" dated May 26, 2015, clearly demonstrating, on the basis of facts and facts only, how the Muslims in India are not only not discriminated against but are also better off than their Muslim brothers in any of the over fifty beautiful Islamic countries in the Middle East. As a matter of fact, some people fondly call the Indian Muslims "sons-in law" of the government.
We had also in the recent past brought to your notice and to the notice of the concerned in the Union Government, a move by the Minister of State in your ministry, who had undertaken a "Bharat Darshan"-cum-lecture tour to convey to the Indian Muslims that they were very much in the focus of the government. Madam, we are sure you would have felt ashamed of that "anecdote". A copy of that mail, titled, "How Much More Will The Muslim Community Be Pampered? And, Why? Is It A Political Necessity For Bihar Elections Or For Survival? Serious Security Implication." dated July 2, 2015, is also attached for ready reference.
Dear Madam, let us at the end emphasise with all the strength at our command that "We Are Not Against The Muslim Friends" in the country whatsoever. Our focus is on governments' continued efforts at appeasing the Muslim community in India for what seems to be a blatant and sustained effort at 'vote bank politics" by the Centre. And, that too at the cost of the majority community in general and particularly the poorer sections among them.
Madam, as we had written to the honourable Prime Minister, you also would not be able to hold back tears if you would have the time and occasion to go through the incredible publication by Shri R K Ohri and Shri J P Sharma, namely, "The Majority Report", especially Chapter IV, that described with case study the fate of the poor sections of the majority community in the villages, where both the communities till today living as peaceful neighbours as it should be but for the governments' minority appeasement policy that has given rise to communal foreboding, most unwanted by every one. In many was thus, this book ("The Majority Report") is a warning to the authorities like you and others to think twice before any further continuation and indulgence in such what can certainly be called a "dirty trick", for whatever that term means.
Madam, as you know, the members of the majority community in India are basically peace-loving and unbelievably tolerant, thus often earning the sobriquet of being dubbed as "dhimmies". Unfortunately, many eminent Muslim leaders across the country take advantage of that and often indulge in making highly objectionable comments that could lead to communal conflagration any time. Such frivolous comments, whether made without thinking or in a pre-planned manner would any day make them open to be charged with offences like treason against the country. Madam Heptullah, you will not be unaware of this situation. Perhaps, therefore, there is enough scope to counsel them appropriately and run a suitable behaviourial programme for them in line with the age-old civilisational ethos of tolerance and assimilation of India.
Madam, we sincerely hope your goodself will take note of our submission, based on facts–neither anti-government or pro-government nor anti-minority community. It has been a straightforward effort aimed at helping the government, and, especially your Ministry, to rectify the palpable mistakes of the government as also by some so-called eminent leaders of the minority community, that, unless corrected in time, may lead to highly unpleasant and unwelcome socio-political consequences. That is why we have said in the title, "Minority Care–How Much More?"
Thanking you for your patience and with respectful regards,
Yours sincerely,
D.C. Nath
(Former Spl. Director, IB)
(President, Patriots' Forum)
9811995693
Copy to:
· The Union Home Minister,
(Shri Rajnath Singh)
· Cabinet Secretary
Shri Pradeep Kumar Sinha
· The Prime Minister Office
(Attention: Shri P.K. Mishra)
· The National Security Advisor,
(Shri A K Doval)
· Secretary To Ministry For Minority Affairs
Dr. Arvind Mayaram
· The Union Home Secretary
(Shri L.C. Goyal)
Yours sincerely,
D.C. Nath
(Former Spl. Director, IB)
(President, Patriots' Forum)
9811995693
Source: Patriot Forum
Disclaimer: The opinions expressed within this article /news /published content are the personal opinions of the submitting author / organization. World Hindu News  is not responsible for the accuracy, completeness, suitability, or validity of any information on this article /news/published content. All information  received is provided on an as-is basis. The information, facts or opinions appearing in the article / news /published content do not reflect the views of World Hindu News and World Hindu News does not assume any responsibility or liability for the same.