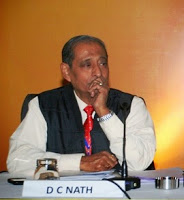 President of Patriots Forum, D.C. Nath was superannuated in January, 1995, as the Special Director, Intelligence Bureau, D.C. Nath (IPS-1960) was associated with the International Institute of Security and Safety Management (IISSM), headquartered in New Delhi, for over 14 years, first as the Executive President & CEO and then as the President & Director General, between February, 1997 and March, 2011. The author of a highly acclaimed book, Intelligence Imperatives for India, Mr. Nath earned high plaudits from all around for two of his very significant presentations on: "Revisiting the Future of India" (2005, London) and "Lessons from India for the War On Terrorism" (2007, USA). He is the only one in the field, combining the experiences of a police officer with specialization in intelligence and strategic analysis and an industrial security expert par excellence. More Bio on D. C. Nath…
News Research & Analysis Files
Conversion pitch by British Ambassador

  << Download Link
December 16, 2014
Dear Friends,
Subject: Now Conversion Of Hindus In Nepal-Conspiracy To Destroy Hindu Identity Of Nepal.
Nepal, as all of us know is the only Hindu country in the world. There have been persistent efforts to Christianise this Hindu country for long, mainly by financial prowess. The UN Mission operating from Kathmandu on this brazenly has since been made to wind up and leave the country.
Now, it seems the mantle has been taken over by the Britishers. British Ambassador to Nepal, Andrew J Sparkes had the guts to write an Open Letter to the Nepalese law makers on the occasion of International Human Rights Day on December 10, 2014, "We encourage you to ensure the rights to change religion." Well, this would be in many ways an open call for sedition and should call for his being thrown out of the country. This is what some people have called for.
It has, therefore, been rightly said, "Several protest rallies were marched out in Kathmandu and others cities against the anti-Nepal, anti-Hindu and pro-Christian stand of the British envoy in Nepal. Public demanded the immediate displacement of Andrew J Sparkes from Nepal. Most of INGOs and the member countries in European Union, working in Nepal are hatching a big conspiracy of high conversion of Hindus into Christianity only to destroy the Hindu identity of Nepal".
Friends, we Indians have a special responsibility in respect of this land-locked country. For years, Nepal, which should be practically the backyard of India, had been the hotbed of international, rather anti-Indian, conspiracies with additional threat of China trying to gradually weaning away Nepal and Nepalese by means of huge influx of financial help as well as through subtle subversion.
Apart from security considerations, that is in the domain of the armed forces, Hindu organisations like the VHP, which has or used to have, a fairly active body in Kathmandu, may also join hands in forcing the proselytising forces not to gain roots in the only Hindu country.
Vandemataram,
Your sevak,
D.C. Nath
(Former Spl. Director, IB)
(President, Patriots' Forum)
Source: Patriot Forum
Disclaimer: The opinions expressed within this article /news /published content are the personal opinions of the submitting author / organization. World Hindu News  is not responsible for the accuracy, completeness, suitability, or validity of any information on this article /news/published content. All information  received is provided on an as-is basis. The information, facts or opinions appearing in the article / news /published content do not reflect the views of World Hindu News and World Hindu News does not assume any responsibility or liability for the same.