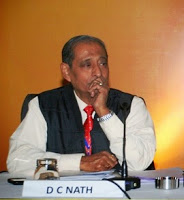 President of Patriots Forum, D.C. Nath was superannuated in January, 1995, as the Special Director, Intelligence Bureau, D.C. Nath (IPS-1960) was associated with the International Institute of Security and Safety Management (IISSM), headquartered in New Delhi, for over 14 years, first as the Executive President & CEO and then as the President & Director General, between February, 1997 and March, 2011. The author of a highly acclaimed book, Intelligence Imperatives for India, Mr. Nath earned high plaudits from all around for two of his very significant presentations on: "Revisiting the Future of India" (2005, London) and "Lessons from India for the War On Terrorism" (2007, USA). He is the only one in the field, combining the experiences of a police officer with specialization in intelligence and strategic analysis and an industrial security expert par excellence. More Bio on D. C. Nath…
News Research & Analysis Files-
RELIVE THE PAST << News analysis file 1
OPINION>>>>
March 20, 2015
Dear Friends,
Subject: Re-Live The Past
We are before with some thing that you may ignore all together or enjoy reading it if you have the time "to re-live the past."
This is about an Exhibition that puts forth: "Rare images of Swami Vivekananda in the Parliament of World's Religions and of Anandibai Joshee holding her first American degree in the 19th century are a part of an exhibition that demonstrates India's historic ties with the US. By Karan Bhardwaj". The interesting write-up from "The Pioneer" of March 16, is attached.
To induce you to look up the attachment, here are some excerpts from that:
· Sitting beside Rabindranath Tagore and sharing his thoughts is like spending one's days beside the sacred river, drinking seep of honeyed wisdom," American activist and author Helen Keller described her meeting with India's renowned poet Rabindranath Tagore when he visited New York in 1921.
· Swami Vivekananda is seen enjoying an afternoon outing along with his international counterparts in the lawns of Green Acre School, Eliot, Maine in 1984. This school, a meeting-place for the study of world religions, was just one stop on a tour in which Vivekenanda introduced the West to Hinduism and yoga.
· Though India got its independence in 1947, the cultural and political exchange started ages ago. David Mees, cultural attache, American Embassy, tells us, "It started soon after the founding of American Republic when the first American President George Washington sent a Consul to Kolkata, which was not credentialled by the British governor general. There was some personal animosity there. After that, American merchants started trade with India. They preferred to avoid British middlemen and instead dealt with Indian commercial agents which provided opportunities to learn first-hand about the places and people they encountered.
Friends, it is some thing like this: if you have the taste for this, you will enjoy. In case it does not suit your busy schedule or temperament, forget about it. We accept the blame to have wasted your time and beg to be forgiven.
Vandemataram,
Your sevak,
D.C. Nath
(Former Spl. Director, IB)
(President, Patriots' Forum)
Source: Patriot Forum
Disclaimer: The opinions expressed within this article /news /published content are the personal opinions of the submitting author / organization. World Hindu News  is not responsible for the accuracy, completeness, suitability, or validity of any information on this article /news/published content. All information  received is provided on an as-is basis. The information, facts or opinions appearing in the article / news /published content do not reflect the views of World Hindu News and World Hindu News does not assume any responsibility or liability for the same.