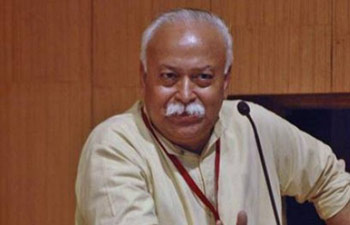 Nagpur: On the occasion of Dusshehra, Rashtriya Swayamsevak Sangh chief Mohan Bhagwat addressed cadres at Sangh headquarters in Nagpur on Friday.
Bhagwat lauded the athletes winning laurels in the Incheon Asian Games. He was also all praise about Prime Minister Narendra Modi's recent US trip. "PM Modi's visit to the US was a huge success. He was given a rousing welcome there," he noted.
He appealed to the people to participate in the 'Swachch Bharat Abhiyan' launched by the PM on Gandhi Jayanti.
Bhagwat addresses Sangh cadres every year on Dusshehra. Surprisingly, this year his entire speech was telecast live by public broadcaster Doordarshan.
In his speech, Bhagwat also exhorted Hindus to celebrate festivals of all faiths.
"Respect and acceptance of each other's faith, harmony and cooperation is the hallmark of the Hindu culture. We accept the other person's faith and views. We move together and accept and respect all.
"All Hindus should participate in all functions, celebrations as well as festivals of great heroes and personalities," Bhagwat said.