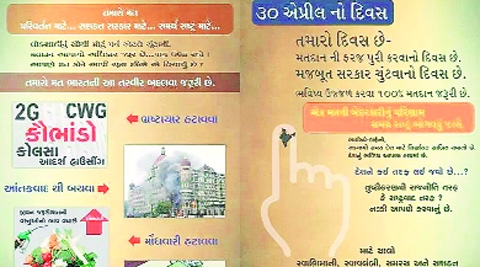 The Rashtriya Swayamsevak Sangh (RSS) has launched a statewide campaign pitching for a 100 per cent turnout in Gujarat on polling day, April 30. However, their hand-outs and posters have no mention of BJP's prime ministerial candidate Narendra Modi, but they urge for a "vote for change…for an empowered government and an efficient nation".
The hand-outs, which list out scams exposed under the UPA II government, has a visual of a book that says, "Vote Bank Politics (UP Edition)" to drive home the point that the vote should not be for a government that appeases minorities.
The other issues it takes up are corruption, inflation, and terrorism, which is accompanied by a picture of the terror attack on Taj Hotel in Mumbai of 26/11.
Incidentally, the RSS launched its door-to-door campaign on April 7, the day BJP launched its manifesto. The campaign calling for a vote for "self respecting, self reliant, harmonious and empowered India" will continue till April 22.
"We are not seeking votes for BJP, but like many government agencies which are campaigning for maximum turnout of voters. We started this campaign to make sure 100% votes for which we have dedicated team at city, towns, taluka and village level," said RSS media in-charge Pradip Jain, who is also looking after the election campaign in Gujarat.
RSS workers are distributing pamphlets printed by Sanskriti Samvardhan Trust (SST) that say, "by your votes, the followings are needed to be changed…corruption (2G, CWG scams etc.), terrorism, inflation and non-appeasement".
According to Jain, out of 1,450 RSS shakhas (branch) in the state, about 10 to 15 members have been given the responsibility for the campaigning.
Vishwa Hindu Parishad (VHP) is also supporting the RSS campaign in the state. However, the VHP too is not openly campaigning Modi, especially in Gujarat. "The BJP has been putting Hindutva on its manifesto since 1998, and this time too it has cited removal of Article 370, cow protection and building of the temple, but we want an implementation plan with a deadline this time", says a top VHP leader.
"This is not the first time that we are campaigning for elections along with RSS. We are not indulging in creating vote banks for any political party. We are simply telling the people that all the parties have already brought out their manifesto and whoever fulfils the requirement such as curbing corruption, inflation and promises of a strong nation should be elected. For which voting is a must. We are trying to ensure 100% voting," said a district president of VHP.