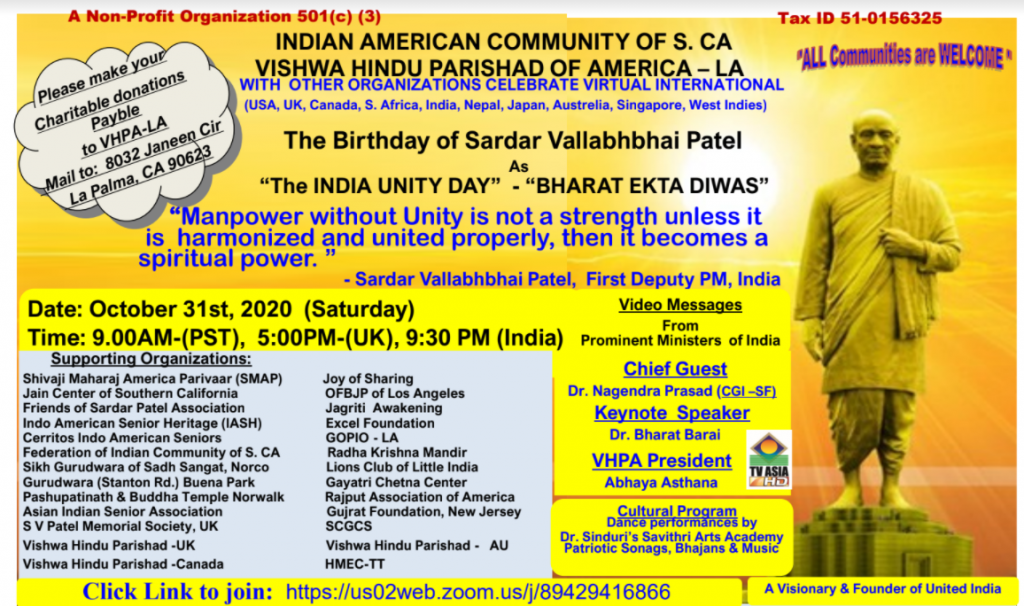 "The India Unity Day – Rastriya Ekta Diwas" , Virtual celebration on Oct. 31, 2020 Saturday
Please find herewith the flyer & program of Global Virtual celebration of the Birthday of Sardar Vallabhbhai Patel as "The India Unity Day – Rastriya Ekta Diwas".
We are happy to inform you that Community Leaders and Associations Worldwide have come together with us to celebrate the event unitedly, which is our aim. USA, UK, CANADA, Trinidad & Tobago, India, Nepal, South Africa, Singapore, Japan and Australia and several more countries will join with us for the event.
Our aim is to spread Sardar Patel's principle of UNITY Worldwide to as many people as we can. Though, I am celebrating this event since 2009 this is the first worldwide trial and happy to get your wholehearted support.
We request you to send this email and flyer to all your contacts, friends and relatives with your personal message to help you/us spread information by email, WhatsApp, Facebook or any media they may have and create National integrity.
This is a task of National Integrity. What we can do without spending any money or without burning any gas but we can do good things from staying at home.
Let us sincerely work together for the happiness of our next generation and for our awareness.
Please feel free to call me or any one of us if you have any questions.
PS: The Program will start at 9:00 AM (Pacific S T) , 5:00 PM UK time) and 9:30 PM (India Time). We request you to calculate time of your country (area) and write to your friends accordingly with your request and your name, please.
With Best Wishes , high Regards and Thanks
Prof Keshav Patel
President: Vishwa Hindu Parishad of America – Los Angeles
Source: World Hindu News